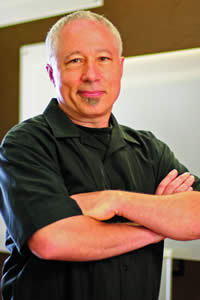 Music and Recording Arts Instructor
Composer. Published songwriter. Singer. A longtime teacher of popular songwriting and audio engineering, MiraCosta College's music and recording arts instructor Christy Coobatis has written music for commercials, Emmy-Award-winning television and feature films. A world-class musician and composer, Christy has served as resident composer for several modern dance companies and scored numerous independent films, including American Addiction, Wager of Love and Ground Rules.
Christy grew up from musical roots in Dearborn, Michigan, amidst a musical landscape which echoed the legendary sounds of rock and roll, Motown, jazz, classical and pop. He picked up his first guitar at age seven, and says, "This is where, "A fire was created in my heart for music."
Despite his love for music, Christy pursued an education in psychology during the mid-1970s. After he successfully obtained a bachelor's degree, he stayed at Wayne State University in Detroit and enrolled in the Ph.D. program, where he planned to earn a doctorate in physiological psychology. But because of his burning desire for music, Christy left the program early and headed for an adventure in California to pursue a contract with Capitol Records.
Arriving on the Hollywood New Wave scene in 1978, Christy faced the typical struggles of show business, which provided an incentive to continue with education. Working toward a goal in music, he earned a bachelor's degree in interdisciplinary studies and a bachelor's degree in guitar and composition at UC Irvine, which helped create a foothold for scoring television shows and feature films throughout the 1980s and 1990s. "However," Christy recalls, "performing for bands was the lace that connected the eyelets of the countless projects that kept the lights on and food on the table."
Continuing to travel on his music education pathway, he went on to earn a Master of Music in Composition from Cal State Fullerton. Then, in 1985 he accepted a music teaching position at UC Irvine, where he discovered his love for classroom teaching. "I found it enjoyable to be able to teach the very thing that was so ingrained in my life," says Christy. "I had an audience, an avenue for the thinking and the tools behind the music. I had found my calling."
Christy's passion for helping others learn music and recording arts led him to many more teaching positions, including at Irvine Valley College, Saddleback College, Mission College, Cogswell College, and to his eventual home at MiraCosta College, where he was given a special opportunity to create a unique musical production, "The Journey."
"The purpose of this concert is to highlight the music that I created while on sabbatical leave during the spring 2011 semester," says Christy. "Each work is a representation of an aspect of my personal journey toward the present."
Based on the passionate infusion of Christy's struggles and success, "The Journey" spans several decades, and Christy's experiences are woven into his original music of fresh pop and neoclassical tunes. The concert is performed by more than 50 MiraCosta College student musicians with artistic choreography and dancing by the St. Louis' Arrive Dance Company.
"The support given to me by the college and community to develop what I teach is represented in the music I wrote," says Christy. "Teaching music and recording arts at MiraCosta College has been the ultimate ramification of all my years of music creation and performance. It is my passion. It is an opportunity to help students to change their lives by giving them opportunities to earn a living in music…based on their talents and aspirations."