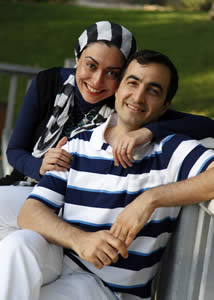 Neither could speak English when they left Iran a decade ago. But these days Shirin Marashi and her husband, Hamed Hajiha, are excelling at one of the top business schools in the country at San Diego State University, where both study accounting.

Hamed, who earned a bachelor's degree in May with a grade point average of 4.0, already has landed a job with PricewaterhouseCoopers (PwC) as an auditor once he secures his master's degree in accounting, with an emphasis in financial reporting, in the spring of 2014. Marashi, who is set to earn her bachelor's in accounting next spring, has been interviewing for jobs with PwC, and KPMG.

Both have two words as the reason behind much of their success: MiraCosta College.
"MiraCosta College is the best," Hamed said. "The first accounting class I took at San Diego State, I could tell I was ready right away. The preparation I had received from MiraCosta College was much better than the preparation other students in my class had."

"I wish," Shirin added, "that MiraCosta had a four-year university program."

Said Hamed: "MiraCosta really helped us."

The college helped them in more ways than one. Both were encouraged to apply for and earned several scholarships, including the MiraCosta College Foundation Scholarship and the Extended Opportunity Foundation Scholarship. Shirin also secured the MiraCosta Medal of Honor Scholarship, the American Society of Women Accountants Scholarship, the Gaiser Family Scholarship and the California Society of Certified Public Accountants Scholarships, among others. She graduated with the school's Medal of Honor, which is earned only by the top students at the school.

They are both very motivated, very inspirational students," said Diane Danielewicz, MiraCosta College's Financial Aid/Scholarship Specialist. "They are driven."

It's a drive that professors see every day.

"They are two of the hardest working students I've ever had, said MiraCosta College Accounting Professor Michael Deschamps. "They are like sponges; you can't give them enough information. They have an amazing work ethic and intellectual curiosity… and aside from that, they are just two of the nicest people you'd ever want to meet."

Their challenges were many. "I came here when I was 27," Shirin said. "It's hard to learn a new language when you're 27."
Added Hamed: "The culture is different, too. You have to get used to it."

Hamed immigrated from Tehran to Toronto when he was 24 years old, in large part because it was easier to get a Canadian visa than securing one from the United States. He landed a night job as a shopping mall security guard, a position that afforded plenty of time to study English. He also worked as a letter carrier and at an auto dealership to earn enough money to help support his siblings and parents. It was in Canada that Hamed met Shirin, who had immigrated to San Diego County knowing no more than a few words of English.

They would end up settling in Carlsbad, where Shirin was attending MiraCosta College.

Hamed, though, initially put off going to school; he commuted every morning to San Diego to get to work at a $9-per-hour job repairing computers. When he decided it was time for a higher education, he enrolled at Palomar College at the suggestion of some friends.

It didn't take long to realize it would be a lot more convenient to attend MiraCosta College's Oceanside Campus.

"When I switched to MiraCosta, I could see the difference right away," he said. "The tutoring sessions were longer, the counselors were friendlier, the professors seemed more professional."

Shirin had enrolled a year earlier, and she wasted no time in utilizing the myriad resources at the school, from the tutoring center, to the ESL program to the counselors. Shirin would spend most of her waking hours at the Oceanside Campus, where she also worked as a tutor for students in 13 subjects while enrolled in courses ranging from accounting and economics to mathematics and business communication.

She constantly worked on improving her English. When professors returned essays with corrections, she would re-write the entire paper, just to practice her penmanship and language skills.

She admits she was somewhat spoiled by the attention she got at the Oceanside Campus. "When I first came to San Diego State, I didn't like it at all compared to MiraCosta," Shirin said. "MiraCosta College was friendlier, smaller, more helpful, more supportive. The attention from the instructors over there was so good. Over here, at San Diego State, some professors don't even know who you are. There are too many students in some classes."

"I was there for four years. It was like my family," she said.

But adapted she has. Shirin serves as SDSU's Certified Public Accountant Ambassador – a position only 12 students throughout California are entrusted with, and works as a student assistant at the Accounting Services & Accounts Payable Department, a job that goes only to those who demonstrate determination to succeed in their field. Both Shirin and Hamed also are Audit Committee members of San Diego State's Associated Students.

The couple, who now live in an apartment a few miles east of San Diego State in the suburb of La Mesa, retain close ties to MiraCosta College. "They reach out to MiraCosta College students to see if they need help, to see if they have any questions about transferring or about San Diego State," Deschamps said. "They know how tough it is."

Both talk about returning to teach at the Oceanside Campus in the future.

"I want to become a professor there," Shirin said.

Hamed, who at 35 is older than many students in his classes, said entering college after overcoming so many challenges has helped him appreciate his opportunities. "Education here is very accessible," he said. "Even in Canada. You don't get the level of support that you do here."
Hamed was named this year's Outstanding Graduate of the College of Business Administration at San Diego State University and was also named an Outstanding Graduate for SDSU's Commencement 2014.