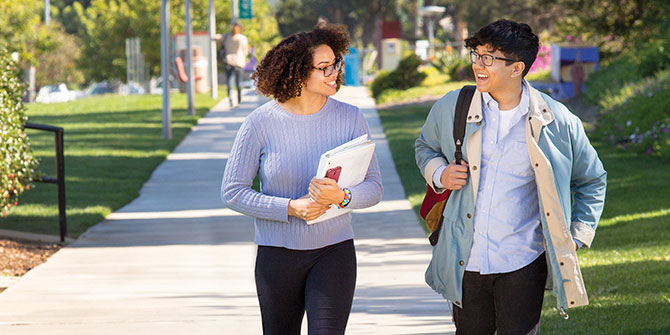 The award-winning MiraCosta College Public Information Office (PIO) exists to create awareness and share the story of MiraCosta College and its impact on the community.
PIO develops and executes strategic marketing communications campaigns; implements the district's governmental relations; and serves the college community by offering publicity, promotion, advertising, marketing, and branding assistance. This office also acts as a resource before, during, and after emergency situations by providing guidelines and information to help manage crisis situations.
All staff and faculty at MiraCosta College are encouraged to work with PIO to ensure maximum exposure of their initiatives, campaigns, classes, events, or workshops.
Location
Oceanside Campus
Building 1000
760.795.6613
Fax 760.795.6609
Mailing Address / Office Hours
MiraCosta College
Public Information Office, MS 7
1 Barnard Drive
Oceanside, CA 92056
Monday - Friday 8am - 4:30pm
areas of service
Strategic Communications
PIO serves MiraCosta College by effectively communicating and marketing our mission, programs, and events to the college community and the public. Our team has the breadth of talent, expertise, and contacts to share your story with a broad audience, including members of the media, local and global community members, government officials, social media users, current supporters, internal campus members, and many others. Contact Kristen Huyck for communication assistance.
Media Design & Application
Our graphic designers work together–and with you–across numerous formats and mediums to best communicate your message. PIO can assist you with banner, brochure, and flyer designs. Our office also offers a full correspondence package, certificates with holders, digital letterhead, and business cards. More is in the portal.
Visual Identity/Branding Guide
PIO is responsible for growing and protecting the MiraCosta College brand. PIO maintains the MiraCosta College Branding Guide which outlines proper brand implementation.
Marketing & Advertising
PIO publishes two weekly e-newsletters, The MiraCostan and Arts & Events, plus a bi-monthly newsletter, MiraCosta Spotlight. Faculty and staff are encouraged to submit content. PIO also manages the district official college social media pages. View all college social media pages in our directory.
Marketing Toolbox
PIO can provide "swag" and presentation templates that employees can use to promote events, classes, and/or workshops. More information is in the portal.
Photography & Videography
The depiction of our college in photos is a critical component of MiraCosta College's brand. Our photography can stand on its own or it can be integrated into a more comprehensive communication strategy. MiraCosta College offers photography services for college events based on availability. To view the college's comprehensive archive, visit the portal.
To learn more about the services PIO offers, please visit the college portal.
"College Smarter, Life Happier." Annual Campaign