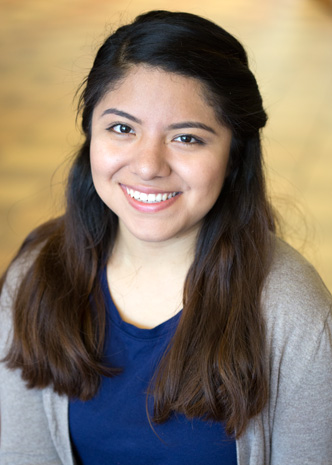 Daisy Jimenez is heading to her dream school. And MiraCosta College helped her get there.
Daisy has had her sights set on Boston University since she first laid eyes on the school while on an eighth-grade field trip to New England, Washington, D.C. and Gettysburg. "We drove by Boston University and I fell in love with it," Daisy recalled. "I said, `that's where I want to go.'"
Her parents had other ideas. "They thought it would be cheaper and a smoother transition if I went to MiraCosta College first instead of straight to a four-year school," Daisy said.
She wasn't happy.
"At first, I was kind of mad I had to go to a two-year college," said Daisy. "I'd see my friends posting on social media about the great experiences they were having at a four-year college or university, and I was frustrated. But then I realized I was just holding myself back. One of my English professors suggested I work in the Writing Center, so I looked into it and it was great. Then I started going to workshops and I began to enjoy the MiraCosta experience."
Born and raised in Vista, Daisy went to Guajome Park Academy before enrolling at MiraCosta College three years ago. She thrived academically, earned a spot on the President's List and graduated with a 3.7 grade point average. She graduated in May with an associate degree in communications, which she will continue to study at Boston University.
Her career plans include working in the advertising and public relations arm of Disney. She got a good start when she spent the spring and summer of 2015 on a six-month internship through the Disney College Program, working at the Orlando, Fla., resort during the day while taking an array of business courses and listening to speakers at night.
"Daisy is truly a model student and an example of the very best at MiraCosta," said communications instructor Anthony Ongyod. "She is thoughtful, curious, and makes everyone around her better. What sets her apart is she is relentlessly consistent. Everyone can be great sometimes. Daisy is one of those students that does excellent work all the time."
It's that kind of support that makes Daisy realize now that her parents made the right choice in having her attend MiraCosta College before heading to Boston.
"Everyone at MiraCosta wants you to succeed," she said. "The resources are there; you just have to take advantage of them."