Chemistry is the science of the composition, structure, properties, and reactions of matter, especially of atomic and molecular systems. Students may take courses to prepare for a chemistry major, to fulfill general education requirements, and to meet prerequisites for related courses and programs.
Career Options
Career options include the medical, health, engineering, industrial, governmental, environmental, and teaching fields.
Student Voice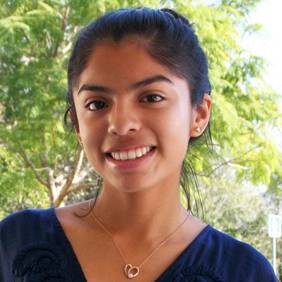 Julia Hernandez
Julia Hernandez graduated a year early from high school with a 4.6 grade point average, she helps take care of her younger brother, she is thriving in her first year at MiraCosta College, and she plans on earning a Ph.D. in chemistry from UC Berkeley. "I had taken a couple dual enrollment classes at MiraCosta when I was in high school, so I was pretty familiar with the campus," she said. "It was also close by, so I could stay at home and help my mom take care of my little brother. And it is very affordable. It was just the best option for me."
Read More About Julia-
Academic Programs in Chemistry
The academic maps will give you an idea of the classes you need to take. However, please meet with a counselor to personalize your education plan.
KEY: Certificate of Proficiency Certificate of Achievement Associate Degree Bachelor's Degree
Additional Resources
Contact Information
Chair
Academic Division Assistant
Dean
Admin. Assistant to the Dean