Computer Science is the study of computers and their applications. It includes a variety of specialties such as systems programming, artificial intelligence, robotics, networking and graphics. In preparation for transfer into more advanced fundamental and specialized areas, students will learn basic programming, data structures and architecture. Computer Science majors will also need two or three semesters of calculus and discrete mathematics, depending on the choice of transfer institution. (See also Computer Studies and Information Technology)
Career Options
Career options in Computer Science include software engineer, computer engineer, systems analyst, database administrator, software project manager and various other computer-related fields.
Student Voice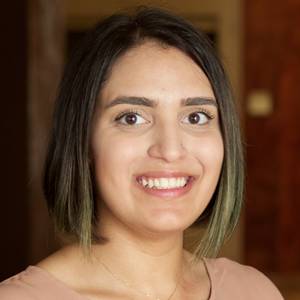 Tina Taleb
Tina Taleb came to Carlsbad to get a taste of California. When she discovered MiraCosta College, she decided to stay. Three years later, Taleb is graduating with three associate degrees, a 4.0 grade point average and a ticket to UC Berkeley, where she will pursue a bachelor of science degree in computer science and electrical engineering. "I absolutely love MiraCosta College," Taleb said. "They do a good job of trying to get you involved and the teachers are available to help you. Plus, everybody here is so nice."
Read More About Tina-
Academic Programs in Computer Science
The academic maps will give you an idea of the classes you need to take. However, please meet with a counselor to personalize your education plan.
KEY: Certificate of Proficiency Certificate of Achievement Associate Degree Bachelor's Degree
Additional Resources
Contact Information
Chair
Academic Division Assistant
Dean
Admin. Assistant to the Dean