Full-Time Faculty
Taya Lazootin, MS Geography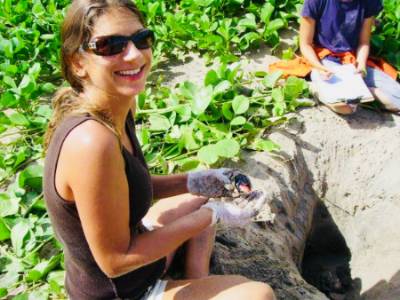 "My favorite thing about teaching Geography is that it creates a deeper connection between students and the world around them."
Bio
As a Geography Professor here at MiraCosta College, I teach courses that focus on earth systems, climate change, environmental policy, and cultural geography. I encourage healthy discussion and open communication in the classroom, and hope that all my students leave my class having a greater appreciation for this beautiful and amazing planet.
I have experience in education, including teaching, managing, and training teachers at the elementary and middle school level, as well as teaching earth science and environmental policy courses as a professor. In addition to education, I have experience in water quality, hydrology, and ecological assessments of inland and coastal habitats. I assisted in research projects for lionfish in the Bahamas, leatherback sea turtles in the West Indies, and Tasmanian devils in Australia. I have served on the Board of San Diego Coastkeeper as the President and Secretary and have volunteered for WiLDCOAST and Surfrider as well as several other nonprofits both locally and abroad. I am currently a faculty advisor for the Sustainability Club on campus.
My favorite animal is the sea turtle, I love being in the ocean and enjoy spending my free time outside. My current passions and interests include sustainable fisheries, aquaculture, marine and estuarine protected area management, habitat restoration and water quality. I am also interested in getting a better understanding of how plastics impact the environment, including human development and our DNA throughout our lifetime. Check out my website www.imnoplasticgirl.com to learn more about reducing your plastic use!
Geography Courses:
101 Lecture and 101 Lab: Physical Geography
102: Cultural Geography
104: World Regional Geography
108: Environmental Sustainability & Society