How a High School Teacher Requests an Articulation Agreement
Please review our Course Outlines to find the course that best aligns with your high school course. Agreements are valid for two years, and renewal requests are required every two years in order to continue articulating the course. Articulation Requests are accepted between December 1, 2021 through March 15, 2022 for the Fall 2022-Spring 2024 school years.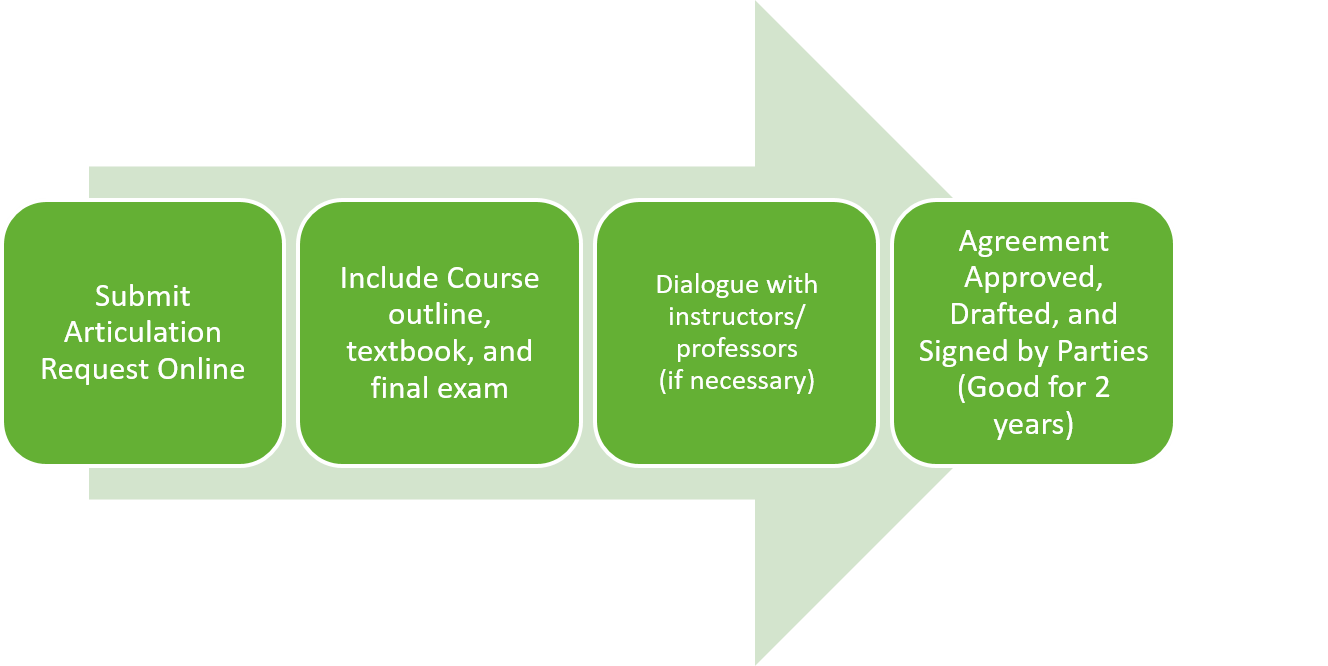 What College Faculty Are Looking For
College and high school course outline, software, and capstone assignment alignment
Rigor demonstrated through assignments, exams, and projects
Course objectives align and are easily identified in your Articulation Request

Ex: Assignment X addresses Objectives 1, 2, 4, and 7

Career Pathway courses
High School Instructor Implementation Responsibilities
High school instructors are responsible for the following:
Inform students and their families of the articulation opportunity. Ensure they understand this is not dual enrollment and inform them of the requirements and process to earn the college credit.
High school teachers must adhere to all implementation deadlines for their school.
High school teachers must create CATEMA accounts, join the Google Classroom, and provide rosters and grades in the Google classroom by the established deadlines.
Ensure students are completing the required steps:

Submitting a Spring term Credit application each year they are in an articulated class (even if submitted before). We cannot transcript grades for a student who doesn't exist in our college records. The admissions application generates the student record. Students must submit a new application every year because accounts are deactivated after two terms of non-enrollment, preventing the college from enrolling the student and transcripting their grades. The account deactivation is required by California legislation.
Students must register in CATEMA (online roster and gradebook) by the school specific deadline. The college doesn't have access to K12 student information systems. Therefore, we utilize CATEMA to track rosters and grades.
Students must submit a Petition for Credit e-form by the deadline set for their school. (New for 2021-22 school year).
Credit Transcription Process & Timing
Credit is transcripted during the summer for the previous spring term. For example, credit earned during the 2022-23 school year will be transcripted during the summer of 2023, and appear on the student application as Spring 2023.
After high school teachers have entered students' grades and credit recommendations, college staff pulls records from CATEMA and formats them, so we can enroll students in the course and transcript their credit. Due to the high volume of students and classes, this is a lengthy process, and our goal is to have all credit transcripted by September 1st of each year. We transcript the FINAL EXAM GRADE from CATEMA with a notation of "Credit by Exam." Students can request official transcripts online.