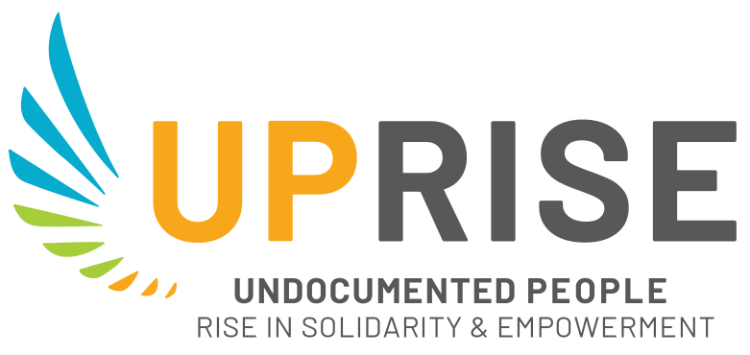 Undocumented People Rise in Solidarity and Empowerment (UPRISE) is a collaboration between California State University San Marcos and MiraCosta Community College to bolster academic success, enhance professional opportunities, improve personal wellness, strengthen institutional support, and increase allies for undocumented students and their families in North County San Diego. UPRISE offers free services to students and loved ones.
Legal Consultations


Our partnership with Jewish Family Service of San Diego (JFS) offers free immigration legal consultations for students, staff, and faculty.
Services include:
-Immigration eligibility consultations
-DACA applications, renewals and advance parole
-Naturalization
-Family-based immigration
-Know Your Rights sessions
-Emergency Planning & Safety Preparedness
-Other legal immigration services

Schedule an appointment with Jewish Family Service of San Diego (JFS).

If you are the loved one of a student or a community member, we recommend you schedule an appointment with Unitarian Universalist Refugee and Immigrant Services and Education (UURISE). UURISE offers low-cost and often free legal consultations.

Currently, legal consultations are being offered via Zoom and or phone.

Emergency Safety Planning for Immigrants
During these consultations, trained professionals will assess your needs and assist you in creating a plan of what can be done in in the event that you or a family member is detained or deported. These plans are individually designed to protect an individual, a family, and their assets.
Nights to Honor Cultural Wealth and Learn About Campus and Community Resources
At these events, students and their loved ones will learn more about UPRISE services, career options, along with resources in the community and testimonials by students about their educational journeys. Free food will be included.
Peer Networking Events
Connect with peers from CSUSM (Undergraduate + Graduate students). Featuring panels of successful undocu-students and professionals, special guest speakers, food and more.
Mental Health Counseling (individual and family sessions)
Offered in Spanish and English, by a licensed mental health professional with a specialization in working with individuals and families impacted by immigration challenges. Please note that individual counseling is offered to students of MiraCosta College, while family counseling can be offered to the student and their family.


Free Suport Group for Undocumented Students and their Families. This support group is to share stories, build coping skills, and connect through the use of fabric and art materials to process emotions, build support, and create safe spaces. Adults only.
For more information, email Berenice Badillo at bbadillo@miracosta.edu

Academic and Career Counseling
Includes assistance with identifying a career based on your needs, skills and interests, and creating an outline of courses to help you fulfill your goals. To schedule an appointment with our UPRISE counselor and coordinator, Karina Duarte-Braunstein, please click here.
UPRISE Textbook loan program
EOPS has funding to provide textbook assistance to UPRISE students. Also, UPRISE students enrolled in Career and Technical Education (CTE) courses may also be eligible for textbook assistance via the EOPS Textbook Loan Program. We will try our best to meet every student's textbook needs but there is no guarantee the specific textbook in need is available. Please complete a Textbook Loan Program application through your SURF account. In your application, state you are an UPRISE student. Visit our EOPS website for instructions on how to apply.
Entrepreneurship Training
Entrepreneurship (the act of starting your business), is an option for anyone regardless of immigration status. Learn how your interests, skills, and talents can be used to start your own business regardless of immigration status.
Immigrant Rising, Entrepreneurship and the UndocuHustle
Be Your Own Boss Scholarship
Please stay tuned for upcoming information regarding the Be Your Own Boss Entrepreneurship Scholarship.
Calendar
Contact Information
For more information on UPRISE services and program, call (760) 576-5192 or contact:
Tereza Zafra Lopez
She, her, hers
Interim UPRISE Student Services Specialist
Oceanside Campus
tzafra@miracosta.edu
Karina Duarte-Braunstein
She, her, hers
UPRISE Counselor and Coordinator
Oceanside Campus
760.757.2121 Ext. 6224
kduartebraunstein@miracosta.edu
Undocumented People Rise in Solidarity and Empowerment (UPRISE) is a service of the Department of Student Equity. For general inquiries about all Student Equity programs and services, please contact us at studentequity@miracosta.edu or call our main office at 760.757.2121 x6900.