The International Languages program provides students the foundation for language study. Students may prepare for a major in Spanish, Japanese, German and French and take courses to meet general education requirements in Chinese, French, German, Italian, Japanese or Spanish.
Career Options
Career options include advertising, broadcasting, consulting, translating, counseling, education, film, foreign service, fund raising, human resources, journalism, international relations, law, management, ministry, politics, public relations, sales, social work, and various other related fields.
Student Voice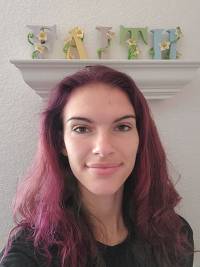 Faith Trammell
Faith has lived in Oceanside her whole life, growing up in a military family and very active in performing arts. After some career exploration, she realized a strong call to explore the deep oceans and set her career goal to be a chemical oceanographer. She hopes to work in Japan some day. Towards this goal, Faith is working on her GE requirements at MiraCosta, and to transfer to a four-year university with a strong oceanography program.
Read more about Faith Trammell-
Academic Programs in Japanese
The academic maps will give you an idea of the classes you need to take. However, please meet with a counselor to personalize your education plan.
KEY: Certificate of Proficiency Certificate of Achievement Associate Degree Bachelor's Degree
Additional Resources
Language Resource Center:
C

omplement and enhance your learning experience offering you the chance to practice on your own and learn with a variety of audio, video, and computer assisted activities.

Credit By Exam: Check out options if you are already proficient in a foreign language
International Events Calendar
Study Abroad: Travel while learning.
Request Additional Information: Learn more about all that MiraCosta College has to offer.
Contact Information
Chair
Academic Division Assistant
Dean
Admin. Assistant to the Dean
Full-Time Faculty
Associate Faculty