Are you inspired by the use of language and communication to shed light on global issues, struggles, and stories? Would you like to build a world where people connect to each other through language, ideas, and cultural expression?
The knowledge and skills gained through the Languages, Communication, and Humanities ACP will prepare you for career and transfer opportunities in a broad range of fields, such as teaching, translation and interpretation, journalism, media, entertainment, marketing, public relations, government, international business, international relations, and law.
Careers in Languages, Communication, & Humanities *
Teachers, professors, and educators.
Diplomats, Foreign Service officers, lawyers, and historians.
Language interpreters, translators, and linguists.
Publishers, journalists, writers, copywriters, and public relations, advertising, and marketing professionals.
* Many of these careers require a bachelor's degree or higher.
Student Voice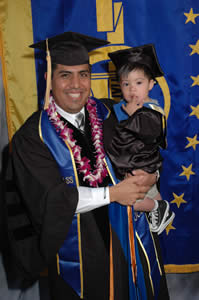 Dr. Alfredo A. Martinez-Morales
Distinguished recipient of the UC Dissertation-Year Fellowship. Author and co-author of numerous research publications on nanowire arrays and quantum dots. Respected scientist in the field of solar energy, nanoelectronics and photovoltaics. Dr. Alfredo A. Martinez-Morales has traveled far and accomplished much since leaving his distant homeland of Oaxaca, Mexico, as a teenager.
Read More About Alfredo-
Programs of Study
KEY: Certificate of Proficiency Certificate of Achievement Associate Degree Bachelor's Degree
**These maps are suggested sequences for course completion. Please consult a counselor to first complete an educational plan.