Horticulture is the study of the art and science of cultivating plants. MiraCosta's Horticulture Program includes landscape design and architecture, irrigation, sustainable landscape and turf management, nursery crop production, sustainable agriculture, PCA (pest control advisor) preparation, and wine technology. Students may take courses to prepare for a major in horticulture, to complete certificates to enter the job market, and to fulfill general education requirements.
Career Options
Career options include sustainable organic production, ornamental plant production and retail nursery industries, landscape and irrigation design, landscape and turf installation and management, horticulture sales and services, plant pest control, and enology and viticulture (vineyards/wine making).
Student Voice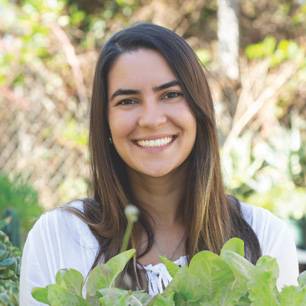 Suzanne Almeida
Suzanne Almeida arrived from Brazil with a growing passion for sustainable agriculture and organic farming. She found what she was looking for at MiraCosta College's new Sustainable Agriculture degree and certificate program. "I saw what MiraCosta College was offering, and it matched completely with my interests," said Almeida, who hails from Salvador, the capital of Brazil's northeastern state of Bahia. "The program is composed of people who are committed to what they do."
Read More About Suzanne-
Academic Programs in Horticulture
The academic maps will give you an idea of the classes you need to take. However, please meet with a counselor to personalize your education plan.
KEY: Certificate of Proficiency Certificate of Achievement Associate Degree Bachelor's Degree
Additional Resources
Contact Information
Chair
Academic Division Assistant
Dean
Admin. Assistant to the Dean
Full-Time Faculty
Associate Faculty