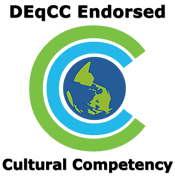 DEqCC Support
Have an event plan/idea related to faculty cultural competency that you'd like DEqCC to support? Fill out our endorsement form before our next meeting (see schedule below) for consideration!
Origins of DEqCC
The Diversity, Equity, and Cultural Competence Committee (DEqCC) was initially a taskforce developed in 2006 to address and support faculty of color who experienced racial prejudice on our campus. While its mission has evolved multiple times in the nearly two decades of its existence, DEqCC has remained consistently committed to promoting diversity in faculty, equity, equal employment opportunity, profesisonal development, and faculty retention.
Our Mission
As a subcommittee of the Academic Senate, DEqCC consults and collaborates with various entities on campus to promote an equitable and culturally responsive work environment for all MiraCosta faculty. In addition, DEqCC offers focused support, resources, and professional development for faculty of color while also recognizing how their intersectional identities account for the differences in their campus and classroom experiences. Our mission aligns with campus and statewide efforts such as MiraCosta's Community College District Equal Opportunity Plan and the principles from the Chancellor's Office Vision for Success.
Our Work
Offer spaces and opportunities to support the centering of personal and professional growth of faculty of color and faculty from marginalized communities so they may thrive at MiraCosta.
Build community and practice community care by hosting speakers, events, and social gatherings to build a network of faculty support and to provide a space for open authentic dialogue between colleagues.
Consult with and support campus committees, programs, and departments (such as Tenure Review and Evaluation Committee [TREC], Human Resources) looking to incorporate equity and culturally responsive practices in their work.
Membership
The committee is comprised of 8 to 10 faculty members (not including the committee chair) who serve two-year renewable terms, which should be staggered to minimize turnover from year-to-year. Members elect a chair to serve a two-year term, which can be renewed one time with committee approval.
Meetings
DEqCC meets on the second Friday of each month from 9:00am - 11:00am.
The Zoom link is posted in the Agenda and emailed/posted at least 72 hours prior to the meeting.
Fall 2023
October 13, 2023 Agenda
November 19, 2023 Agenda (holiday - no meeting)
December 8, 2023 Agenda
Spring 2024
February 9, 2024 Agenda
March 8, 2024 Agenda
April 12, 2024 Agenda
May 10, 2024 Agenda
Contact Information
Committee Chair, Xuchi Eggleton at xeggleton@miracosta.edu or 760.757.2121 x6268