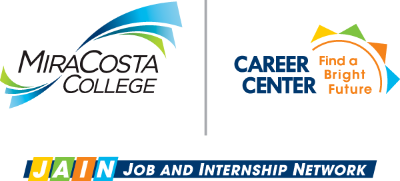 JAIN (Job and Internship Network) is accessible 24/7 online for all MiraCosta students. Please login in using your SURF ID and password to search for jobs/internships, see who's recruiting on campus, upload your resume, apply for jobs, report employment or internships, and access job search resources.
If you have questions about JAIN, please contact the Career Center at 760.795.6772 or stop by OC4700.
Technical Notes
This application relies on the usage of internet cookies. Optimal cookie settings will vary depending on your browser, but you must have your browser configured to accept cookies to use the GTS application. Currently, GradLeaders supports Internet Explorer versions 9 and above along with the latest version of Mozilla Firefox and Google Chrome.