Internships & Cooperative Education
Internships and Co-ops are designed to provide MiraCosta students with workplace experience and new or improved skills. Learn more about the Internship Process.
You must complete these three Critical Activities before you can view and apply to internships:

Take a class at MiraCosta in the same discipline as the internship you are seeking.
The instructor for that class must agree you are ready for an internship.
You must create an updated resume approved by the Career Center. Once approved, you will gain access to the internships in JAIN where you can select relevant internship sites and apply.
Log into JAIN and click on My Profile and then Profile Summary. Scroll all the way to the bottom of the page to the section that says Co-Op/Internship Info.
Under the Co-Op/Internship Info section say Yes to the question I AM INTERESTED IN COMPLETING A CO-OP/INTERNSHIP/WKEX.

Enter CLASS TAKEN IN MAJOR, SEMESTER TAKEN and WHO SHOULD WE ASK FOR A FACULTY RECOMMENDATION. Fill out the necessary information.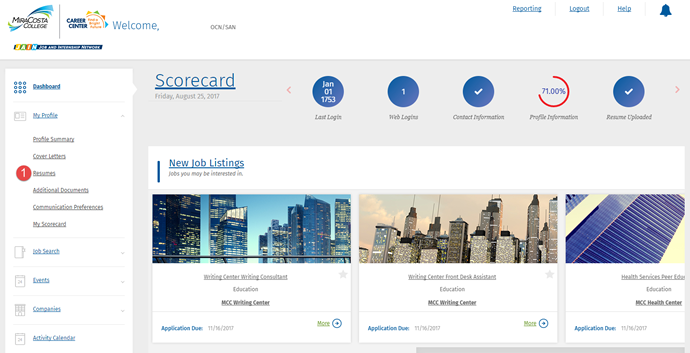 Upload your Resume under the Profile section
Once your class/faculty information has been confirmed and your resume approved, you will receive an email notifying you of your access to the internship opportunities in JAIN.
The Student
Develops workplace learning objectives with the instructor.
Meets with the instructor at the internship site twice during the semester. (At the beginning of the internship and at the end of the semester).
Reports monthly hours on Canvas verifying time worked. For each unit of credit, students must intern a minimum of 60 non-paid hours or 75 paid hours.
Completes required assignments.
Adheres to the program requirements as outlined in the Syllabus.
Submits assignments and monthly hours reports via

Canvas

. Please contact the Student Help Desk or the Career Center if you need assistance.
Find out the roles and responsibilities of the instructor and the employer.
Course Credit
Internship Studies and Cooperative Work Experience Education courses are transferrable to the CSU system. Credit options vary based on the number of hours the student is interning/working and the availability of courses during any given semester. Each unit of credit received requires 60 nonpaid or 75 paid hours of work at the job or internship site.