Emeline
Pronouns: She/Her/Hers/They/Them/Theirs
Hello everyone, my name is Emeline Oropeza! I'm a first-generation college student and a 2021 graduate from Guajome Park Academy. I am currently leaning towards majoring in English, however I do also have a very strong interest in scriptwriting. As for my career goals, my mind is currently set on becoming a community college English professor, but I also wish to become an author or perhaps even a playwright on the side. Apart from working at the SJEC, I am also looking into taking part in UPRISE and reintroducing Circle K International to MiraCosta. During my leisure time I greatly enjoy gaming, listening to/watching musicals, acting, writing scripts and outlines for future comics and stories, and I also enjoy drawing out designs of the characters that I intend to include in said stories/comics. I look forward to working with my SJEC team in order to help establish a sense of community and belonging for not only others, but for myself as well as I continue my path towards self discovery.
Parmis
Pronouns: She/Her/Hers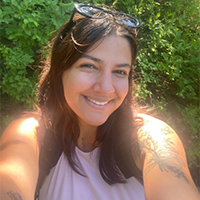 Hey everyone! I'm Parmis and I'm a first generation college student and plan to transfer to SDSU to major in Social Work. My goal is to become a licensed mental health counselor. I am an Iranian immigrant and I'm super passionate about advocating for therapy for POC from immigrant families. In 2020, I've worked with our health services as a Mental Health Peer Educator on campus and this year I'm super excited to work as a PAL for First Year Forward as well. In my free time, I love to go for walks with my dog, go to the beach, and listen to fun podcasts. I can't wait to learn alongside my SJEC team and advocate for our community <3
Anri
Pronouns: She/They
Hi everyone! My name Is Anri Le Roux. I was born and raised in South Africa and am currently in my third year at MCC and am studying Data Analytics. I am planning on transferring in Fall 2023. In the future, I want to work in Clinical Research or research inequities in higher education and communities. I am a former foster youth, homeless youth, and high school dropout which has made me very passionate about the lack of access/support for under-represented groups in higher education and how the K-12 system disadvantages certain populations. I love cooking, gardening and spending time with my dog Bella during my free time.
Natalia Flores
Pronouns: She/Her/Hers
Hi everyone! My name is Natalia Flores and I'm a first-generation college student who is currently majoring in Sociology. I have A LOT of interests, so I do see myself dipping my toes into everything but ultimately, I hope to go into the Educational field and become a teacher. Right now I am on the road to self-discovery so I do not have many hobbies but as of lately I have been learning more about spirituality, spending some time admiring the arts (poetry, music, traditional art, etc.) and practicing lots of self care. To be an Intern at the SJEC a second time around means a lot to me and I look forward to getting to know more about my team and myself as we go through this journey together <3 .
Teya Pamela Searles
Pronouns: She/Her/Hers
My name is Teya and I am a returning learner to MiraCosta College! I was a student at MiraCosta from 2016-2018, managed to transfer to UCSD and graduate in the spring of 2020, and finished a Film degree at MiraCosta College in December of 2020 (I know, I am all over the place). I am originally from Temecula, but have found my place in North County San Diego (not as hot). I will be applying to graduate school by the end of this year, but in the meantime, I want to educate myself in the equitable practices that are present/lacking in all manners of education, regardless of the educational and/or developmental stage(s). I also like turtles and movies.