Remy (They/He/She)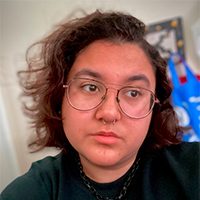 Hey y'all! My name is Remy Oropeza, and I go by they/he/she pronouns. However, my pronouns do cycle on a daily basis, so please ask which I prefer for the day instead of assuming! Now as for my background, I am a first-generation, low income college student from a mixed status family. This is my second year at MiraCosta, and I aim to transfer to a UC in 2023. I am majoring in English in hopes of becoming an English Professor, or to come back to work at MiraCosta in general! In my free time I like to draw, read, play video games, and listen to music. I'm at the SJEC Wednesday-Friday, so feel free to stop by and chat with me anytime!
Research Interests
LGBTQIA+ representation in media; Undocumented and Mixed Status voices in Literature
Daniel Penuelas (He/Him/His)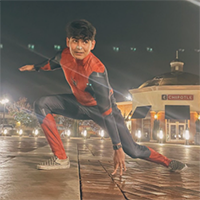 Hello there! My name is Daniel Penuelas (He/Him/His) and I am the campus aide here at the SJEC. I am a first generation student who graduated from UCR in 2021, double majoring in sociology and political science. Currently, I am a graduate student at Cal State San Marcos, where I study mental health issues in Latinx Communities. Here at the SJEC, I work with the student interns to develop programs and guide them through their questions pertaining to research and workshop planning. During my free time, I love to work out, play music, and hang out with the people I love. I'm at the SJEC Monday, Tuesday, and Friday, feel free to stop by and say hello!
Research Interests
Mental Health Disparities, Low-Income Communities, Marginalized Populations
Parmis Sanaei (she/her/hers)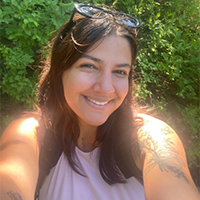 Hi everyone, my name is Parmis and I'm a first generation student majoring in Sociology. Along with being a first-gen, I also am from an immigrant background as an Iranian American. In studying sociology, I'm interested in fostering equity into different institutions such as higher education and public health policy. I am intending to transfer for Fall 2023 to a UC. As far as career goals, I would like to become a counselor in higher education (Full circle and come back to MiraCosta!). In my free time, I like to cook, go to the beach, or be outdoors!
Research Interests
Public health, data for equity, and food insecurity
Kat Hidalgo (She/Her/Hers)
Hi everyone, I'm Kat. I'm currently completing my final year here at MiraCosta, planning on attending a UC in the fall of 2023. I'm part of the SJEC because I'm passionate about equity, inclusivity and sense of belonging for our students and community. Being a mixed individual, I never felt a sense of belonging before attending MCC. Thanks to the wonderful programs here, I have found my place and I want to help others feel the same. My career goal is to work with wildlife and conservation with my end goal being to make my way to Africa and perform my own research and study in conservation with wildlife. You can find me spending time with my high school age son, reading, drawing or hiking in my spare time. I'm at the SJEC Monday & Wednesday but on campus throughout the week so come on in and spend some time with us, I can't wait to meet you all!
Research Interests
Environmental Racial Justice
Luna (she/ they)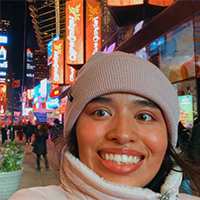 Hello everyone, my preferred name is Luna and my pronouns are she/her/hers and they/them. I'm the oldest in my family, as well as a first gen immigrant student. This is my first year enrolled full time at miracosta, although I've attended a few other schools before; I plan to return to UCSD next year. My major is public health, and I plan on focusing on community health. I'm really passionate about improving quality of life, providing health resources to low income communities, and fighting for health equity. During my free time I like to go to the gym, spend time with my dogs, and watch cartoons like Rick and Morty and anime.
I'm excited to be part of SJEC, and provide resources for students as well as celebrate everyone's background and culture.
Research Interests
Health equity, chronic diseases, nutrition.
Paola Enriquez (She/Her/Hers)
Hey everyone! My name is Paola, and my pronouns are she/her/hers. This is my first semester as well as my first on campus job! Right now I am working towards my Nursing Major as well as completing my general education, and eventually want to transfer to UCLA to further my medical career. In addition to being an intern at the SJEC center, I enjoy spending my weekends working at Everything Is Ramen in Legoland California, as well as with my family at Origen Coffee Roasters, a family-owned specialty coffee business located in Carlsbad, CA. Outside of work, I am a huge Disney and Marvel fan. I am beyond excited to spend my time here at the SJEC center in hopes of bettering our community and overall making it a safe space where everyone is welcome. Hope to see you there!
Research Interests
Latinx Experiences, Latinx voices in STEM, Latinx in the medical field
Soleil Navarro Hernandez (she/her/hers)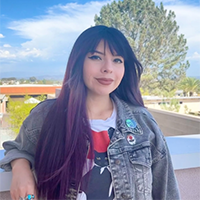 Hey everyone! My name is Soleil, I'm a Mexican American Graphic Design/Illustration major minoring in Intercultural Communications. This is my third semester here at MiraCosta and in the process of transferring to a UC by next fall 2023. I was born and raised here in beautiful Oceanside and discovered my passion for creating art in high school and decided to take my passionate hobby and turn it into a fun creative career! I love being involved with my local art community and now my school community by helping bring social justice concepts and advocacy through integrated work and exploration in the arts as well as mental health issues in Latinx communities. In my free time I enjoy live music, coffee shops, drawing, and ramen!
Research Interests
Social justice advocacy through integrated exploration in the arts, mental health issues in Latinx communities, Intercultural Communications
Crystal Garduno (She, Her, Hers)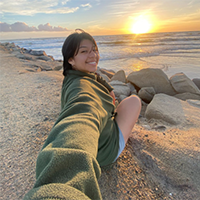 Hi peeps! My name is Crystal Garduno and I am an Environmental Engineering major. I am planning on transferring to UCR where I can obtain my Bachelor's Degree and join the USAF as an officer. After serving my country, I plan on moving to Europe where I hope to work for a BioEnergy company that is searching for permanent alternatives to plastic. My hobbies include: hiking, camping, crocheting, and baking. You can find me at the SJEC Mondays-Wednesdays and on campus all week so come hang out!
Research Interests
Environmental Policy, Well-being and Stability in Low Income Families, Latinx Representation in STEM
Stephanie Flores (She/her/hers)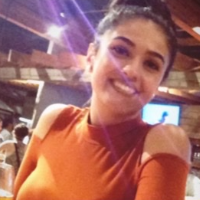 Hi everyone! I am currently pursuing a degree in English in hopes to attain a career in education. I am a domestic abuse survivor, a single mother to a neurodivergent child, and a member of our SAS and honors population. As a result, my educational career has not been a streamlined process but fueled by a dream. A dream many of us have to complete higher education. I hope anyone reading this who is struggling with anything and/or is a non-traditional student like myself can rest assured, with the knowledge that MiraCosta provides their community members and students with a robust amount of support and resources. If anyone needs a listening ear and an open heart please stop by SJEC and come by to chat with me! I can try my best to point you to the support necessary to aid in accomplishing your dream. You belong here. Some of my interests apart from advocacy are checking out delicious restaurants, quaint coffee shops, and scenic walking trails.
Research Interests
Abuse prevention, healthcare/educational equity, abilities awareness, body positivity
Mason Benitez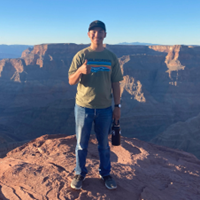 Hello everyone, my name is Mason Benitez, I'm in my fourth semester here at Miracosta and have loved every second. My goals are to someday become a Traveling Nurse, there's a certain fulfillment in helping others and the opportunity to travel that comes with it. Outside of school I regularly volunteer around Oceanside and San Diego in my newfound community and also enjoy the outdoors. As a first generation college student I understand the emotions that come with it, here at the SJEC my mission is to be the helping hand to those seeking it and provide equality in addition to safe space for all. Feel free to come by the Social Justice & Equity Center any time!
Research Interests
Stability & food insecurity