Course Student Learning Outcomes (CSLO)
These outcomes should explain in clear and concise terms the specific skills students should be able to demonstrate, produce, and know as a result of the particular course objectives.
Resources
CSLO Forms
General resources
Tips for developing cSLOs
Create a Specific, Measurable, Attainable, Realistic and Time bound (SMART) Learning Outcome
Link the CSLO to a PSLO, a Core Competency or a discipline specific outcome
Use active operational verbs that reflect what the student will be able to do at the end of the course-See (Bloom's Taxonomy)
Develop a CSLO that is not the same as a Performance Objective in the course
Do not include the assessment method in the Outcome statement
Each course and program should have unique outcomes
Consider the course level when selecting the level of Bloom's Taxonomy -Does the student develop higher levels of thinking with each subsequent course?
Honors CSLOs may be different from the non-Honors version CSLO
One to three CSLOs are required for each course
One CSLO can be appropriate if it can be overarching to all Content areas; more than one is generally most appropriate when there is a lot of content, and the SLOs are overarching to subsets of Content areas.
The Difference Between Course Performance Objectives and Course Student Learning Outcomes
Course performance objectives- are classroom focused, content specific, with a short time frame and describe small, discrete skills or "nuts and bolts" that require basic thinking skills. They are subsets of outcomes related to the content sections of the course that can be used to demonstrate the mastery of an outcome. Objectives can be practiced and assessed individually but are only a portion of the overall learning or development of a skill.
Course Student Learning Outcome- Overarching Product, Higher level thinking Skill, Wide range of knowledge, Broad aspects of behavior; Students are asked to demonstrate, through production or application what they have learned.
Example A:

Align the CSLO with the Course Assessment, Program Outcomes and Core Competencies. Note: when developing a new course, use backward design. That is, create new CSLOs from the appropriate core competency(ies) and PSLO(s).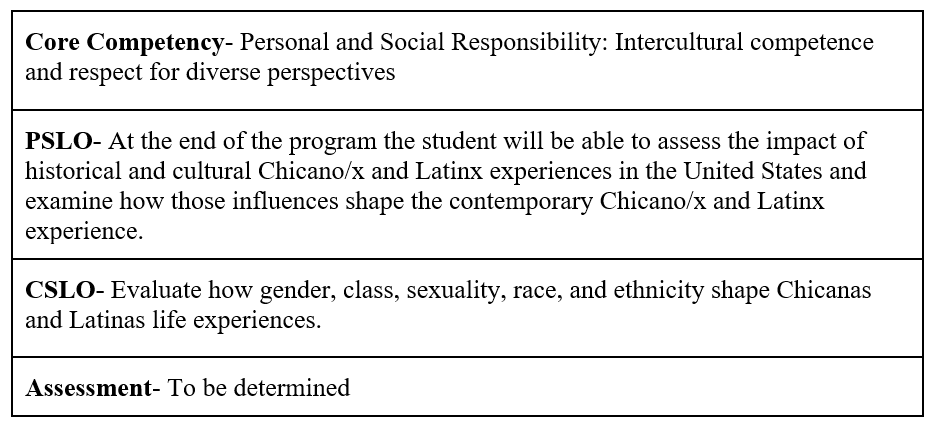 Example B: (pending image)
Align the CSLO with the Course Assessment, Program Outcomes and Core Competencies.