Apply to be the Commencement Speaker or Poet
What is a Commencement Speaker?
The Commencement Speaker is graduating student who opens the ceremony with a message to the graduates and ceremony guests. Commencement speakers often shares stories about resiliency, community, culture, and education.
Example: Emanuel Prince served as the 2021 Commencement Speaker. Emanuel is introduced at the 15 min 35 second mark and he begins his speech at the 16 min and 45 second mark: MiraCosta College 2021 [Virtual] Commencement Ceremony.
What is a Commencement Poet?
Complimenting the Commencement Speaker, the Commencement Poet is also powerful part of the commencement ceremony. This graduating student has the power to set the tone for the celebration offering a message delivered in the form of spoken word or poetry.
Example: The first ever Commencement Poet was Nani Helen Leinani Highland-Coslow (Class of 2021). Nani is introduced at the 22 min 48 second mark and she begins her poetry reading at the 23 min and 54 second mark: MiraCosta College 2021 [Virtual] Commencement Ceremony.
How do I Apply to be the Commencement Speaker and/ or Commencement Poet?
Applications are on Engage. Visit www.miracosta.edu/engage and click on "Forms."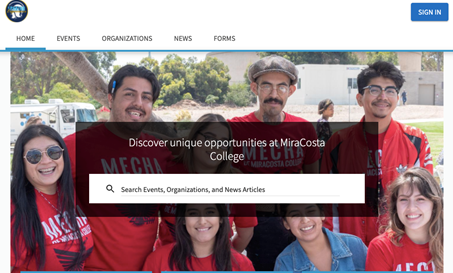 After you click on "FORMS," the applications for 2022 Commencement Poet Application and 2022 Commencement Speaker Application will populate. These are different applications with similar, yet varying questions. Graduating students are welcome to apply for one or both roles.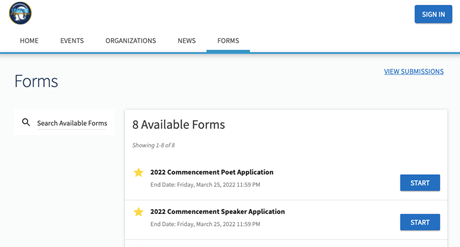 When is the deadline to apply?
To allow you time to apply during Spring Break, the application deadline is Friday, March 25. This gives the committee lead time to save and compile all applications over the weekend so the committee can review applications as early as Monday, March 28.
Who selects the Commencement Speaker and Poet?
A committee of students, faculty, and student services employees review all applications. All names and identifying information is redacted, which means that the committee will not know the identity of the applicant when reviewing the initial applications.
After review of the applications, the committee will invite approximately 3-5 applicants to participate in a recorded zoom interview with the committee lead, Chelsea Kott. Chelsea will then share the recording, including name of the interviewees, with the committee.
INTERVIEWS - SAVE THE DATE: If invited for an interview, the interviews will be held the last week of March and first week of April. Interview slots are daily at 9:00am and 4:00pm, or as arranged 1:1 with interviewee at your availability. Class, work, and family obligations are a priority, so if the 9:00am and 4:00pm timeslots do not work for you, Chelsea is happy to accommodate another time.
After review of the recorded interview, the committee will collectively determine who the Commencement Speaker and Commencement Poet will be. While we often wish we could award the honor to multiple people, only one poet and one speaker will be selected.
The status of your application (selected to be the speaker or poet, or not selected to be the speaker or poet) will be shared with interviewees as soon as possible, likely around Monday, April 11.
What happens if I am selected?
If you are selected to serve as the Commencement Speaker or Commencement Poet, you will have a team here to support you! You are invited to work with MiraCosta faculty and staff who are prepared to help you craft your final draft (this is optional). Sometimes, this means having someone simply offer minor feedback, or serve as an active listening participant for you to practice, or dialoguing with you about bringing your vision to life. We follow your lead and are here to offer whatever level of support you are interested in.
To allow time to prepare for closed captioning and/ or translation of the commencement speech and commencement poetry or spoken word, a final draft is due to the committee lead prior to the ceremony.
You will have time to practice on stage prior to the ceremony.
You will receive a free cap and gown to keep. With this, if selected, you will need to provide your size to the committee lead in advance so we can order you the correct gown.
We will highlight you! This means that our Public Information Office would love to produce a story about you to celebrate you on our college's website and social media. If selected, PIO will contact you for an interview.
Questions?
Please email Chelsea Kott at ckott@miracosta.edu with any questions.