Get Active for Free!
Embrace the journey of lifelong learning. MiraCosta College provides diverse courses tailored to empower older adults to pursue personal growth, consistent physical activity, and cognitive well-being, featuring a rich array of online and in-person classes, from chair yoga and art to creative writing and improvisation. Classes are open to community members and conveniently accessible throughout the local area.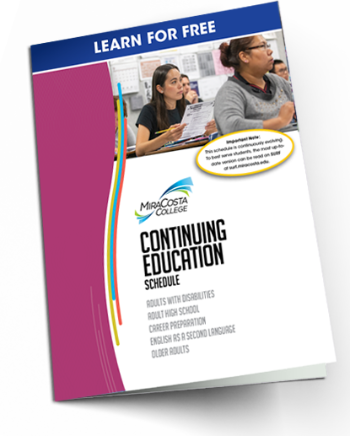 What Can I Expect?
Build college and career skills to help you get ahead with courses that teach:
Employability Skills
Learn what sought-after skills all employers require.
Introduction to Career Education
Learn what a career education could do for you and your future
Basic Auto Tune-Up
Gear up with basic automotive skills
Computer Basics & Keyboarding
Build basic skills and confidence
Basic Office Skills
Build confidence by learning your way around an office
Applied Computer Skills
Put your computer skills to the test
Microsoft Word: Beginning and Intermediate
Learn basic skills that all offices require
Microsoft Excel: Beginning and Intermediate
Build skills with this popular office application
PowerPoint
Learn how to build impressive presentations
Internet
Feel more comfortable on the web
Take courses and earn certificates in a variety of areas including basic computer skills, English Fundamentals, Teachers' Aide Training and more.
5 Reasons to Attend MiraCosta College's Lifelong Learning Program
No Cost To You
Free classes, support services, food pantry, and more.

Flexible morning, noon, and
online classes.

Learn on your own schedule
Classes are offered throughout the year, giving you
opportunities to learn when it's convenient for you.

Classes are open to community members and
conveniently accessible throughout the local area.
Safe andsupportive learning environment with caring
and passionate faculty and staff.
Become Part of a Community!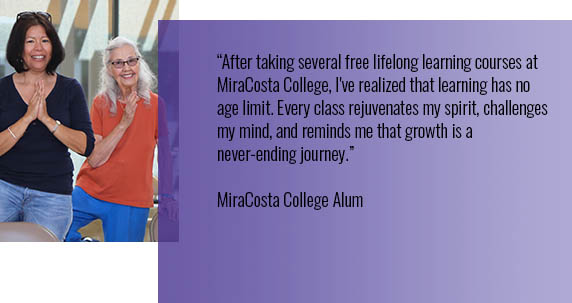 Additional Resources
About the Continuing Education Division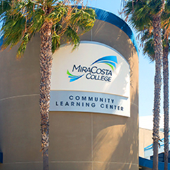 Community Learning Center
1831 Mission Avenue
Oceanside, CA 92058
View Map
760.795.8710 | 888.201.8480

Admissions & Records Office
760.795.8710
noncredit@miracosta.edu
Adult Education Office
760.795.8736
adulted@miracosta.edu
Continuing Education Events
MiraCosta College's Continuing Education Division offers student events throughout the year that celebrate culture, diversity, and community.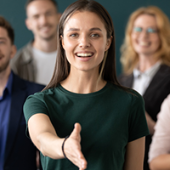 Meet the MiraCosta Team
Our administrators, faculty, and student support specialists are dedicated to your success. We invite you to connect with us!