Get College and Career-Ready for Free!
Whether you need to learn the basics or upgrade your skills for the job market, MiraCosta College's supportive and accessible College and Career Preparation program will give you the career-focused knowledge today's employers require.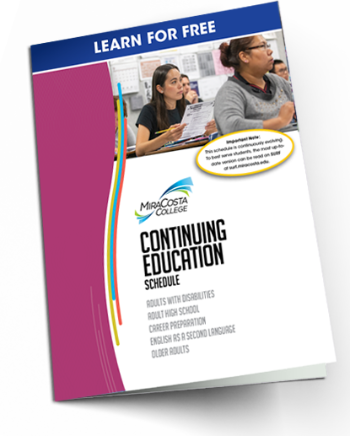 What Can I Expect?
Build college and career skills to help you get ahead with courses that teach:
Noncredit English
Develop academic grammar, reading and writing skills.
Noncredit Math
Improve your mathematic skills.Employability Skills
Learn what sought-after skills all employers require.
Introduction to Career Education
Learn what a career education could do for you and your future
Basic Auto Tune-Up
Gear up with basic automotive skills
Computer Basics & Keyboarding
Build basic skills and confidence
Basic Office Skills
Build confidence by learning your way around an office
Applied Computer Skills
Put your computer skills to the test
Microsoft Word: Beginning and Intermediate
Learn basic skills that all offices require
Microsoft Excel: Beginning and Intermediate
Build skills with this popular office application
PowerPoint
Learn how to build impressive presentations
Internet
Feel more comfortable on the web
Take courses and earn certificates in a variety of areas including basic computer skills, English Fundamentals, Teachers' Aide Training and more.
5 Reasons to Attend MiraCosta College's College and Career Preparation Program
No Cost To You
Free classes, books and materials, support
services, food pantry, and more.
Flexible morning, noon, evening, and
online classes.
Learn on your own schedule.
Classes are offered throughout the year, giving you
opportunities to learn when it's convenient for you.
Classes are open to community members regardless
of education level and immigration status.
Safe and supportive learning environment
with caring and passionate faculty and staff.
Become Part of a Community!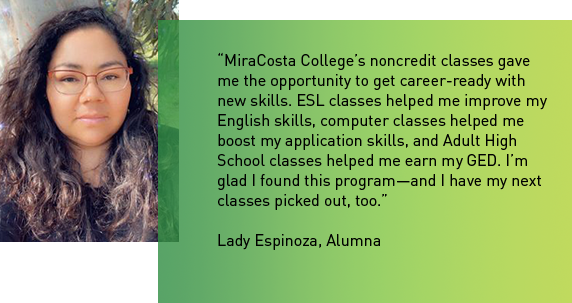 Frequently Asked Questions
What are career preparedness classes and certificates?
Our department, Career Preparedness, offers courses to help students train for new jobs or learn new skills for their current jobs and careers. Students can take just one class to boost their skills or test their interest in a certain topic. We also offer multiple Certificates of Completion that include taking a series of courses (anywhere from 2-5 classes).
Are there any prerequisites to taking the classes/earning a certificate?
There are no prerequisites to take the classes. In order to earn any certificate, you must pass all of the required courses with a "P".
How much do these classes and certificates cost?
Nothing! Noncredit courses are always FREE, and we provide all books and instructional materials.
Do I need to be 18 or over to take these classes?
No! As long as you are 15 or older and have completed the 8th grade, you can enroll. Anyone under 18 must submit a minor's consent form to register, but that is easy and we will help get that done!
Do I need a high school diploma or GED to take career readiness or certificate classes?
No! You can even be working on either of those while you are taking these classes. However, most employers will require employees to have completed one of these at the time they apply for the job. Luckily, our noncredit programs also offer an Adult High School diploma and a GED preparation program for those wishing to complete either of these
Do I need to be a U.S. Citizen to take these courses?
No! Anyone is eligible to enroll.
Are any of these courses taught in a language other than English?
Not yet, but we are planning to offer some of our courses in Spanish in the near future.
English isn't my first language. Should I take ESL courses before enrolling into these courses?
We recommend students be enrolled in or have completed ESL Level 6 or 7.
Do you offer job placement for students who complete certificates?
While we do not offer direct job placement, we are closely connected with multiple employers and industry agencies who are looking to hire our graduates. Here are just some of the resources available to our students:
Students enrolled into our Affordable Housing Management program will be partnered with a mentor who works in the housing industry and can assist with letters of recommendation and career advice. Additionally, all students are given a one-year membership in the San Diego Housing Federation, allowing them to attend additional trainings and conferences to network within the housing industry!
Students enrolled into our Teacher's Aide Training program have two direct pathways to local employers: TERI Inc and MiraCosta College Noncredit Programs. Each of these employers has expressed interest in hiring all of our eligible graduates!
We have a dedicated Career Center staff member who can help you to connect with each of our partners, craft your resume, and prepare you for interviews. MiraCosta College offers robust career services to help our students get ready for, look for, and succeed in new jobs!
To get help with your career/job search, contact Cole Bezzant at cbezzant@miracosta.edu!
If I am not currently authorized to work in the United States, can I get a job with one of these certificates?
The certificates themselves will not make you eligible to work for employers in the United States. However, many of our current and former students without work authorization, complete these certificates in order to learn new skills to open, build, or improve their own
businesses
. MiraCosta College students who identify as undocumented are strongly encouraged to work with UPRISE to explore all possibilities available to them! Undocumented People Rise in Solidarity and Empowerment (UPRISE) is a service of the Department of Student Equity. For general inquiries about all Student Equity programs and services, please contact
studentequity@miracosta.edu
or call 760.757.2121 x6900.
Can I complete more than one certificate at a time?
Absolutely, and many students do! Due to the way our classes are scheduled, students often find it easy to enroll into multiple classes per term/semester, and this allows them to meet the requirements of more than one certificate at once. For instance, a student who is completing the Office Clerk certificate must only take Introduction to Microsoft Word, however, if that student takes one additional class (Intermediate Word), the student will earn an additional certificate.
Can I take all of my classes online?
Probably! It depends on the classes you need and which certificate you are completing. The majority of our classes are offered fully online, however, we also offer some in-person options for those who prefer to learn in that way. Check the most current schedule to see which of your courses are offered online, in Zoom, or as HyFlex.
What are HyFlex courses?
HyFlex courses allow students to attend in one of two ways: in-person or via Zoom. Either way, attendance is required, but HyFlex classes provide maximum flexibility!
Who teaches the career preparation classes?
Our classes are taught by qualified instructors with professional backgrounds in the areas they teach. To provide two examples, our Affordable Housing Management courses are taught by a Regional Portfolio Manager for one of the largest property management companies in San Diego and our Teacher's Aide Training classes are taught by a local Speech Pathology and SPED (Special Education) instructor.
Who can I contact if I have questions?
For questions about the content of classes themselves, you can email the Career Preparation Department Chair, Erica Duran at
eduran@miracosta.edu
or call her at 760.795.8703. For questions about enrolling into the classes, you can email
noncredit@miracosta.edu
or call our Admissions and Records staff at 760.795.8710. You can also visit us in person at the Community Learning Center! We are located at 1831 Mission Ave. in Oceanside, directly across from the Starbucks. If you are taking the bus, please use Breeze route 303.
Additional Resources
About the Continuing Education Division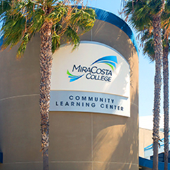 Community Learning Center
1831 Mission Avenue
Oceanside, CA 92058
View Map
760.795.8710 | 888.201.8480

Admissions & Records Office
760.795.8710
noncredit@miracosta.edu
Adult Education Office
760.795.8736
adulted@miracosta.edu
Continuing Education Events
MiraCosta College's Continuing Education Division offers student events throughout the year that celebrate culture, diversity, and community.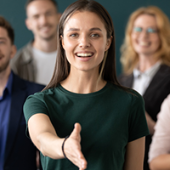 Meet the MiraCosta Team
Our administrators, faculty, and student support specialists are dedicated to your success. We invite you to connect with us!