Build Life Skills and Independence
MiraCosta College's Independent Life Skills courses give students with intellectual and developmental disabilities the opportunity to grow and become more independent in a safe and supportive environment. Courses focus on skills that can lead to greater employability and self-sufficiency.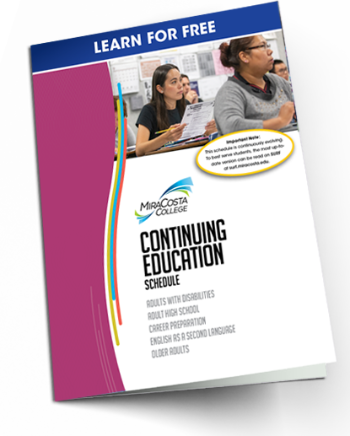 What Can I Expect?
Build life-long skills with classes like:
Effective Life Skills
Basic Academic Skills
Employability Skills
Basic Computer Skills 1 for Learners with Intellectual and Developmental Disabilities
Basic Computer Skills 2 for Learners with Intellectual and Developmental Disabilities
Students completing the graded Basic Computer Skills 1 & 2 classes earn an official Certificate of Completion from MiraCosta College!
5 Reasons to Attend MCC's Independent Life Skills Classes
No Cost To You
Free classes, books and materials, support
services, food pantry, and more.
In-person classes in Oceanside
and Cardiff plus online Zoom classes.
Caring faculty and staff
Learn in a safe and supportive learning environment.
Build skills and gain
independence.
Connect with new friends
Join a great and supportive community.
Become Part of a Community!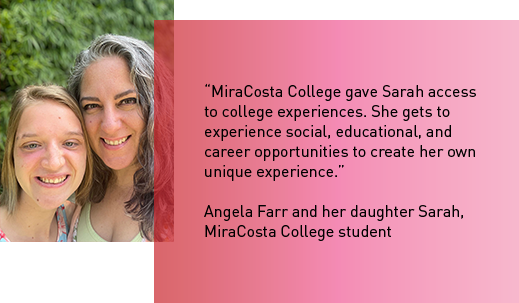 Frequently Asked Questions
What are Independent Life Skills classes (formerly known as classes for Adults with Disabilities)?
MiraCosta College currently offers five unique courses designed specifically for adults with intellectual and developmental disabilities:
NCSPC 25 Effective Life Skills (is currently called Effective Life Skills. Are we changing the name?)

NCSPC 26 Basic Academic Skills

NCSPC 27 Basic Computer Skills 1 for Learners with Intellectual and Developmental Disabilities

NCSPC 28 Basic Computer Skills 2 for Learners with Intellectual and Developmental Disabilities

NCWFP 21 Employability Skills (while this class can be taken by anyone, we typically offer two classes per semester specifically for students with disabilities)
Does MiraCosta College offer a day program for adults with intellectual and developmental disabilities?
No, however our courses are offered back-to-back in morning and afternoon sessions, allowing for students to come to class for a full day. For example, a student could register for a morning Basic Academic Skills class, take a lunch break on campus, and then take an Employability Skills class in the afternoon.
Our classes start at varying times, but typically between 8:30-9:30 in the morning, and afternoons sessions between 11:30-12:30 depending on the combination of classes. A student who enrolls into morning classes can expect to be done around lunch time, and students enrolling into both morning and afternoon classes can expect to be done by 2:30-3:00 p.m.
Who do I contact to receive accommodations for my classes?
The Student Accessibility Office (SAS) at (760) 795-6658 or email sas@miracosta.edu
The Student Accessibility Services (SAS) office supports students who experience a variety of disabilities, including but not limited to the following; acquired brain injury, ADHD or ADD, autism spectrum, blind or low vision, Deaf or hard of hearing, intellectual disability, learning disability, mental health disability, physical disability, other temporary or chronic health conditions & disabilities.
SAS offers a variety of academic accommodations, including:

Exam Accommodations

Extended Time

Distraction Reduced Environment

Reader/Scribe

Note takers

Audio Recorders

Interpreters

Real Time Captioning

Alternate Format Materials (digital books, audio books, large print, braille etc.)

Alternate Media (Read and Write GOLD, Glean Note Taking Software, Kurzweil)
Does MiraCosta provide personal assistants or instructional aides for the Independent Life Skills classes?
We do assign an instructional aide to each class. However, these aides are there to support the entire class and not any one individual student.
Are there any prerequisites to taking these classes?
There are no prerequisites to take the classes, but we do recommend that students also register with Student Accessibility Services (SAS) so they can begin to receive accommodations as soon as possible.
Is there a placement process for these classes? How do students know which classes to register for?
We do not have a placement process, and students are welcome to register for any classes they wish and which fit their schedule and meet their learning objectives. We want our students to embrace as many learning opportunities as possible!
What is the average class size?
The average class size is 20-27 students.
How much do these classes cost?
Nothing! Noncredit courses are always FREE, and we provide all books and instructional materials.
Do I need to be 18 or over to take these classes?
No! As long as you are 15 or older and have completed the 8th grade, you can enroll. Anyone under 18 must submit a
minor's consent form
to register, but that is easy and we will help get that done!
Do I need a high school diploma or GED to take Independent Life Skills classes?
No! You can even be working on either of those while you are taking these classes. However, most employers will require employees to have completed one of these at the time they apply for the job. Luckily, our noncredit programs also offer an
Adult High School diploma and a GED preparation program
for those wishing to complete either of these.
Do I need to be a U.S. Citizen to take these courses?
No! Anyone is eligible to enroll!
Are any of these courses taught in a language other than English?
No. All of our Independent Life Skills courses are taught in English.
Can I get to the campus using public transportation? If I drive, where do I park?
The Community Learning Center IS accessible by public transportation. Use BREEZE Route 303 (eastbound) 313 (westbound) to access the Community Learning Center at 1831 Mission Ave. in Oceanside. The bus stop at the front of the campus is on a sidewalk. The distance from the bus stop to the buildings where classes are held is approximately 500 feet on paved, flat ground. For those who are driving to and parking at the Community Learning Center, the nearest parking lots to our classrooms are directly in front of the buildings as you pull in.
The San Elijo campus is not accessible by public transportation, unfortunately. Our classes are offered in the 200 building. Parkings lots SAN-1 and SAN-2 (to the left as you enter from Manchester), are the closest lots to this building. The 200 building is up a slope, and there are paved ramps leading to the classrooms.
Do I need a parking permit to park on campus?
All enrolled students do need a parking pass once the semester begins.
MiraCosta College offers no-cost parking to disabled students who have a current disabled placard or plate issued by the Department of Motor Vehicles. Students may only use disabled placards that are registered in their name as the disabled person. They may not use placards that are not registered specifically to them. Students with valid disabled placards or plates must register their vehicle with College Police and they may park in any disabled, staff, student and visitor lots as long as the disabled placard is displayed.
Approved volunteers will receive a free parking pass for the semester they are volunteering.
Are there food options on campus for students who wish to have lunch or a snack?
Yes. Both the Community Learning Center and the San Elijo campuses have food options and plenty of student gathering areas to enjoy during a lunch or snack.
At the Community Learning Center there are two student lounges (buildings 100 and 300) that have vending machines, microwaves, and seating.
The San Elijo campus also has vending machines, as well as a Campus Cafe.
Additional Resources
About the Continuing Education Division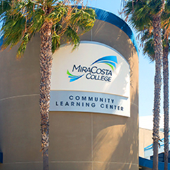 Community Learning Center
1831 Mission Avenue
Oceanside, CA 92058
View Map
760.795.8710 | 888.201.8480

Admissions & Records Office
760.795.8710
noncredit@miracosta.edu
Adult Education Office
760.795.8736
adulted@miracosta.edu
Continuing Education Events
MiraCosta College's Continuing Education Division offers student events throughout the year that celebrate culture, diversity, and community.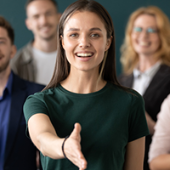 Meet the MiraCosta Team
Our administrators, faculty, and student support specialists are dedicated to your success. We invite you to connect with us!