MTS and NCTD riders can now use the new regional fare system, PRONTO. PRONTO replaces the Compass Card and Cloud systems entirely, offering riders a better payment experience when choosing transit.
How to Purchase
PRONTO cards are available for in person purchase through the Oceanside cashier's office. Student may also purchase passes at the CLC location in BLDG 300.
We accept cash, Visa, MasterCard, Discover Card and debit cards with the Visa or MasterCard logo for payment.
Students are required to be enrolled in at least one course at MiraCosta to purchase a bus pass.
Cost
Monthly PRONTO Card from MiraCosta College is $ 57.60 per calendar month.
Purchase Dates
PRONTO card purchases made from the 1st thru the 19th of the current month will be activated for use during that same month.
PRONTO card purchases made on or after the 20th of any month, their card will be activated for use for the following month.
We kindly ask students to have the PRONTO App downloaded when ready to purchase a pass.
Instructions to Download PRONTO App from your Smart Phone
Once you download the App click on Sign Up
Then you will be asked for your Email, First Name, Last Name, and Password (you will choose a password and confirm that password)
Click you agree to Mobile App Terms and click continue
You will then be asked to choose two security questions then click sign up
Click on manage and then click Create or Add Card
Create a Virtual Card for Free (ordering a Physical Card will cost $2.00). Choose Virtual Card, Adult Card Type will automatically populate, name it if you choose or skip and just click
Create Virtual Card
You are now all set to use and manage your card, purchase daily passes, find out departure times, plan trips, and so much more! Be sure to register your card in case it is lost or stolen.
From a computer
Allows you to register, log in and gives great detailed information on the PRONTO Pass including Earn as You Go so that you always get the best fare and never pay more than a Day Pass in a day, or a Month Pass in a calendar month.
Be sure to have us link your Virtual or Physical Card to MiraCosta College to get a discount.
EOPS Students
Qualified EOPS students, please reach out to the EOPS office before purchasing bus fare.
¡Ya está aquí el Pase Pronto!
Los pasajeros de MTS y NCTD ahora pueden usar el nuevo sistema de tarifas regional, PRONTO. PRONTO reemplaza los sistemas Compass Card y Cloud por completo, ofreciendo a los pasajeros una mejor experiencia de pago al elegir el transporte público.
Instrucciones para Descargar la Aplicación desde su Teléfono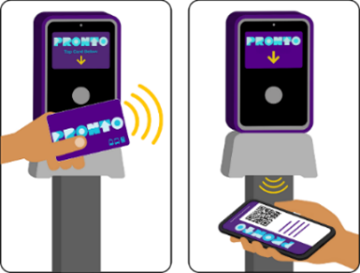 https://apps.apple.com/us/app/pronto-san-diego/id1577230742
Una vez que descargue la aplicación Pronto, haga clic en Registrarse
Luego se le pedirá su correo electrónico, nombre, apellido y contraseña (usted elegirá una contraseña y la confirmará)
Haga clic en que acepta los términos de la aplicación móvil y haga clic en continuar
Luego se le pedirá que elija dos preguntas de seguridad y luego haga clic en registrarse
Haga clic en Administrar y luego haga clic en Crear o Agregar tarjeta
Crear una Tarjeta Virtual es Gratis
Pedir una Tarjeta Física tendrá un costo de $2
Elija Tarjeta virtual, el tipo de tarjeta para adultos se completará automáticamente, asígnele un nombre si elige u omita y simplemente haga clic en Crear tarjeta virtual
¡Ahora está listo para usar y administrar su tarjeta, comprar pases diarios, conocer los horarios de salida, planificar viajes y mucho más!
Asegúrese de registrar su tarjeta en caso de pérdida o robo desde una computadora.
Le permite registrarse, iniciar sesión y brindar gran información detallada sobre el Pase Pronto, incluido Ganas-mientras-avanzas, para que siempre obtenga la mejor tarifa y nunca pague más de un Pase de un día en un día o un Pase de un mes en un mes calendario.
Asegúrese de que vinculemos su tarjeta virtual o física a MiraCosta College para obtener un descuento. ¡La Tarjeta Pronto Mensual de MiraCosta College cuesta $57.60 por mes calendario!
Compras del 1 al 19 (válido para el mes actual). Compras el día 20 en adelante (válido para el mes siguiente).
Aceptamos efectivo, Visa, MasterCard, Discover Card y tarjetas de débito con el logotipo de Visa o MasterCard solo para pagos.