Student Parents
A student parent is "a student who has a child or children under 18 years of age who will receive more than half of their support from that student" (Ed Code Section 66025.81(b). Student Parents receive Priority Registration per AB2881.
For information about other off-campus resources for child care, WIC, and other student parent resources, please review our CARE Resource Guide for Basic Needs or check out available resources for student parents on campus such as:
Diaper Distributions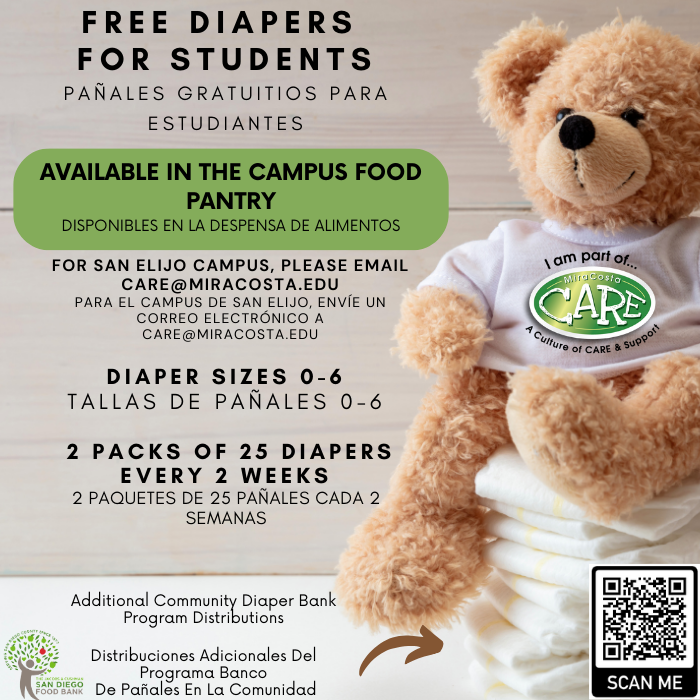 Currently enrolled MiraCosta students may receive 1 free pack of 25 diapers (Sizes 0-6 are typically available however change depending on availability from our partner, the San Diego Food Bank) per child from the Campus Assessment, Resources, & Education (CARE) program.
Please reference our flyer for more information about the new diaper distributions. Remember to purchase a day parking permit and park only in student parking lots (if you do not already have a semester parking permit).
For students wanting to pick-up at the San Elijo Campus, please email care@miracosta.edu.
On-campus diaper distributions will pause when the semester ends and will resume in the next semester. Upcoming diaper distribution dates will be updated the week before classes begin each semester. The last diaper distribution/s of the Fall 2023 semester will be Thursday, December 14th, 2023.
For additional community diaper distributions, please visit the Diaper Bank Program Distribution Site List.