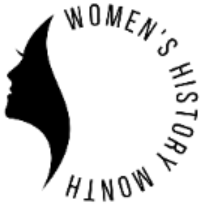 Academic year 2022-23 / Women's History Month Series presents
Ongoing Events
Virtual Library Display
https://library.miracosta.edu/womenshistory
The MiraCosta College Library has created captivating Online Displays featuring items from their collections of each of the History and Heritage Programming. Make sure to check out the following online displays for books and ebooks, biographies of famous people, and online films and documentaries.
Upcoming Events
Past Events
Women Soaring Project: Women Antiracists
Women's History Month Kickoff Event: UNLADYLIKE Screening
Human Rights 101
Art + Wellness Self Care Workshop with the Soultry Sisters
Latina Leadership Network: Women's Resource Center Panel
Fast Fashion 101
Without a Whisper - Konnón:Kwe
Black Feminist Thought
Hijas unidas: Amplifying the Voices and Experiences of First-Gen Latinx Women
Latina Leadership Network: Art Therapy with Berenice Badillo
Contact
For more information on these services and programs contact:
Student Equity
studentequity@miracosta.edu
History and Heritage Programming are a service of the Department of Student Equity. For general inquiries about all Student Equity programs and services, please contact us at studentequity@miracosta.edu or call our main office at 760.757.2121 x6900.