UPRISE Mural Group
With Dr. Berenice Badillo
Funded by a Health and Wellness Sponsorship from the California Community Colleges
The UPRISE mural group at MiraCosta College has been asked to exhibit their artwork and will have an upcoming exhibition. The date and time will be announced in the Fall.
The group members consist of undocumented and mixed status students who have utilized art to express their struggles and to create counter-narratives. The group's members have been creating large scale artwork since 2019 under the guidance of mental health counselor and art therapist Dr. Berenice Badillo.
The students first started working on portable paper murals, and then continued creating murals during the pandemic through Zoom, utilizing ingenuity and paint kits. The students collaborated on a design and then created a mural in fragment pieces. The portable mural will be put together like a puzzle and be installed at MiraCosta College in the near future.
These large-scale artworks serve as a platform and a way to amplify the voices of our undocumented students. These images say "I am here, I am important, I have dreams and I am unapologetically unafraid." It is our hope that the making and the viewing of these images promotes advocacy and well-being by increasing hope and actively contribute to social change through the building of social context and agency.
Monica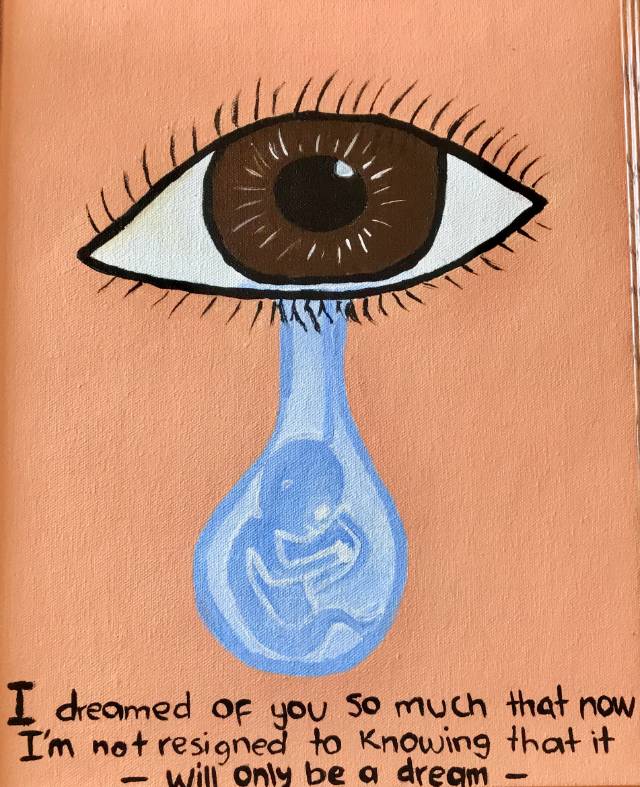 Mi nombre es Monica Angeles ase algunos meses después de 15 años recibí la noticia mas hermosa venia en camino mi segundo bebé. Soñé tanto con el que ahora no me resigno a saber que solo será un sueño.Pero también como muchas personas creo en Los Ángeles tuve uno en mi vientre y ahora vive por siempre en mi corazón aún que esté destrozado!!!
My name is Monica Angeles. A couple months ago after 15 years of waiting, I received the most beautiful news that my second baby was on the way. I dreamed of him so much that now I have resigned to knowing that it will only be a dream. Like many people I believe in angels. I know because I had one in my womb and now it lives forever in my heart even though it is shattered !!!
Flor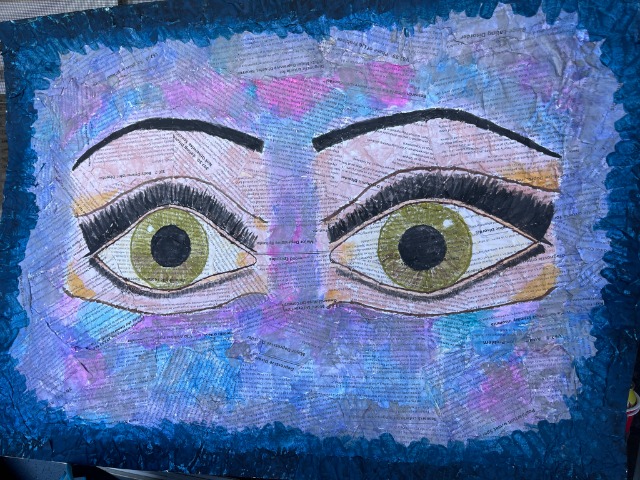 I am Flor Lopez. Mujer Chicana, daughter of immigrants, descendant of the Wixarika, born and raised in North San Diego County, Califaztlan, mother of 2, huehuetera, chola-goth, espiritual, activist , revolutionary..
This art piece is a pair of eyes staring out from the crumpled pages of the DSM-IV-TR as a statement on mental health, specifically depression.
Art piece is created from pages taken from the DSM, mostly under mood disorder section, ripped out, crumbled, and stuffed in a bag, where it was sealed tightly to create wrinkled paper. then they were glued on to the board, then painted with use of watercolors and some diluted acrylic paint.
This piece was inspired by a "found object", in this case an old DSM manual, that brought up feelings of past bouts with depression (in my 20's), being overwhelmed with those feelings, and not feeling safe to talk about them because of stigma.
My goal as an artist mostly is for cathartic reasons and hopefully resonate with others along the way. with this piece I want to convey the importance of mental health, self-care, and support. The DSM pathologizes mental health focusing on mental illness. We all go through difficult times, which makes seeking support and talking about it okay. Fact is we all need to care for our mental health.
In making this art piece, I was able to look at my history of depression through a different lens. I learned about survival, resiliency, personal growth, and hope!
Sandra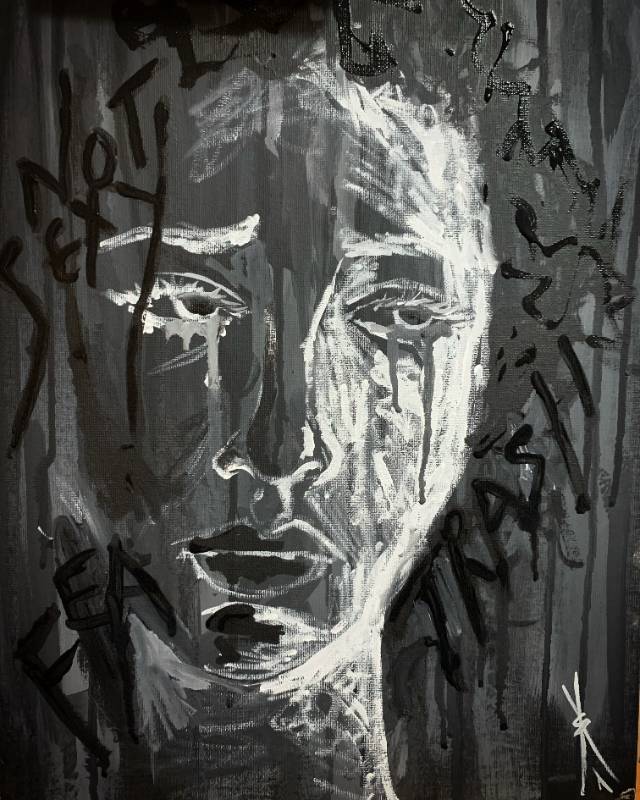 Sandra Carmona Ke'aku (Hi), I am Sandra Carmona, a Native American of Wixárika descent, Chicana, from a farmworker household. A woman who, although having grown up in poverty and around gangs, was also blessed to be part of a tightly knit, strong and colorful barrio. My art is intended to give a voice to my people and showcase our beauty and vibrancy. Art is medicine. Scarred and Mangled Acrylic on Canvas 12" x 16" I knew in my core what I wanted to present, but couldn't express it on canvas. After weeks of being blocked. I painted this free handed in 20 minutes....These feelings are so deep seeded that the colors just poured from my mangled and scarred heart. A lifetime of abuse suffered from this patriarchal system. One man's trash is another man's treasure... Nah, she's always been a treasure....just yet to be discovered by someone who recognized her value
Tammy
Inspiration: I listened to 'How to be Antiracist' by Ibram X Kendi while creating this piece due to current racial conflict & the resurgence of white supremacy movement. It inspired me to bring attention to the racial divide & inequity that exists between racial groups in America.
Challenges: finding enough pictures of people of color in magazines to complete the collage.
Message: It is time for racism and discrimination to end. Too many people of color are dying and being murdered by racist whites and prejudicial representatives of governmental organizations.
The process of creating this piece has opened my mind's eye to my abilities. I can see the beauty in this mural and am now able to recognize the creativity and innate beauty of previous things that I have made and wasn't able to see before. I am very motivated to continue to take art classes and further develop myself as an artist.
Teneal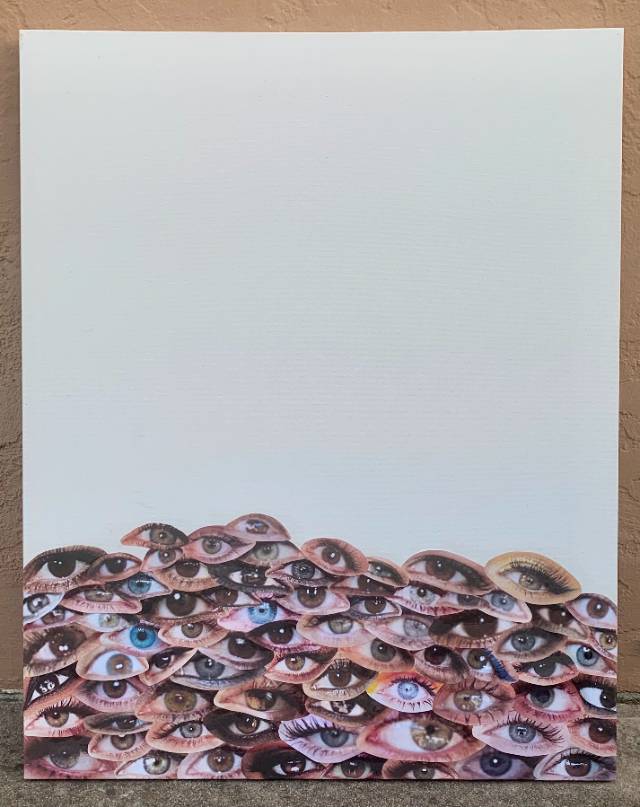 I am Teneal. I am originally from South Africa and am now a college student studying psychology. I am a feminist who is inspired by the riot girl movement of the 90s. I want to create voices for those who are in the shadows. As well as bring light to hardships that many women face daily. I use my own experiences good or bad to inspire my artwork and fuel my creativity.
My artwork "Eye wasn't asking for it" is a mixed medium piece presented on canvas. The materials I used are paper, mod podge, and acrylic paint. My artwork is made up of the eyes of sexual assault survivors. To show that no matter where you are from, what you look like, or the environment you are in there is no excuse for rape taking place. Looking at these eyes of survivors and confronting the many women who the majority are from our local community could one really defend a rapist and say someone was "asking for it?"
My goal was to confront people's bias and the "taboo" nature people have surrounding rape. I want them to realize there are no circumstances or excuses to defend rape. It is important to me that the community hears the voices of sexual assault survivors and see their strength through their eyes. Being a sexual assault survivor myself I knew I wanted to bring light to this issue through my artwork and highlight the survivors around me. I hope to keep creating artworks that show the hardships that women have to go through especially being a sexual assault survivor.