Congratulations on your admission to MiraCosta College!
Step 1 - SEVIS I-20/F-1 Visa Application
Step 2 - Pre-departure Guide
Step 3 - Class Registration Guide
Applying for a Student Visa?
Once you have received a SEVIS I-20 Form from MiraCosta College, you can begin the student visa application process. Download the F-1 visa application guide.
Here are the steps for applying to the F-1 visa:
Pay the SEVIS I-901 fee online at www.fmjfee.com. The fee is called a SEVIS I-901 Fee and is collected by the Department of Homeland Security (DHS). The fee can be paid by mail or online. The fee can be paid by the student or by someone else (family member or friend) inside or outside the US. For more information on how to pay the SEVIS Fee, please visit the Department of Homeland Security Website.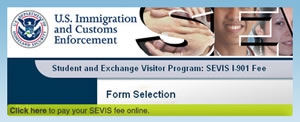 After you have obtained your receipt of SEVIS fee payment (receipt is called I-797), contact the United States Embassy located in your country to make an appointment for receiving your F-1 visa. All appointments must be made online. Please read the online appointment instructions. Prepare Online Nonimmigrant Visa Electronic Application (DS-160).
Take the SEVIS I-901 payment receipt, entire I-20 and original documents showing proof of financial support to the U.S. Embassy or Consulate where you made the visa appointment for.
You can visit the Bureu of Consular Affairs for approximate wait times by embassy location. If approved, the visa will be placed in your passport. See sample below.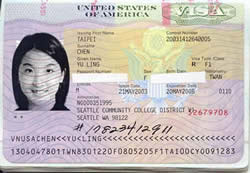 Housing Information
Housing is the responsibility of the individual student and/or sponsor. MiraCosta College does not provide dormitories or college-approved housing for students. Below are listed some web sites and phone numbers of companies/organizations that can assist you with planning your arrival to San Diego County. MiraCosta College assumes no responsibility and has no knowledge of the condition of housing advertised or the character/reputation of housing providers. Information furnished is for your convenience only. It is compiled from and readily available on the internet.
Finding housing is an important step for new students. What should you consider before making a housing decision?
Step 1: Consider your budget
Host family A typical cost to stay with a host family is:
$900 per month for a single room
$200 per month for personal food
$50-$150 per month for some expenses like cell phone or other personal services
Private apartments and homes A typical apartment costs:
$1800-$2000 per month for two bedrooms (most apartments are NOT furnished)
$200 per month for utilities like electricity, heat, water, internet
$200 + per month for food
Step 2: Decide how you will handle arriving to the United States
Finding the right housing option will be difficult from long distance. Finding an apartment, signing a rental contract, and deciding an appropriate location to live can take months. A homestay services can provide an immediate housing option and provide airport pickup from San Diego. If you would like to live with a host family either temporarily or permanently you can contact the following resource:
Step 3: Learn about the neighborhoods around MiraCosta College
Step 4: Understand rental contract and other matters
To rent an apartment or a room from a private home, you are required to sign a lease (rental contract) for 6 months to one year. Before signing a least, you should ask appropriate questions to understand what your responsibilities are as a renter.
Roommate is like a business partner. You need to know someone well enough to trust them to pay bills, respect your belongings and yourself. Before committing to a roommate, you should ask how rent and expenses will be divided and how they are paid. When living in an apartment, you should expect to pay for all furniture and possible moving expenses. Besides rent, you should expect to pay for electricity, water/trash pickup, cleaning supplies, and other shared expenses.
Temporary Housing
Make sure you make the hotel reservation before arriving in Oceanside.
The list below has information for 5 hotels/motels located near MiraCosta College
| | | |
| --- | --- | --- |
| Name | Address | Phone Number |
| | 3190 Vista Way, Oceanside, CA 92056 | 1-800-500-6328 |
| | 3170 Vista Way, Oceanside, CA 92056 | 1-800-718-8466 |
| | 3240 East Mission Avenue, Oceanside, CA 92054 | 1-866-966-3043 |
| La Quinta Inn | 937 N Coast Hwy, Oceanside, CA 92054 | 1-760-450-0730 |
Making Flight Arrangement
First check the new student orientation dates listed on your I-20. You can arrive up to 30 days prior to the new student orientation.
Consider flying to San Diego (SAN) or Carlsbad (CLD) for easier transportation to Oceanside.

Coaster Train runs between downtown San Diego to the Transit Center in Oceanside
Breeze bus lines offer convenient routes to take you from the Transit Center in Oceanside to neighboring areas.

Another option is to fly to Los Angeles (LAX) and take public transportation to Oceanside.
First take the flyaway bus from the airport to the Los Angeles Union Station.
Once you are at the Union Station, you can take the Metrolink Train directly to the Transit Center in Oceanside. You can find more information on the train stations and train schedules by using the Metrolink website.
Money Matters
Estimated Cost of Attendance for the first semester at MiraCosta College
Find the latest Estimated fees and cost of attendance on our website.
* Fees are subject to change without prior notification.
**Optional Fees
Parking: All vehicles parking on campus are required to display a valid parking permit: four-wheeled vehicles--$35 per semester (during the summer session, it is $17.50); it is full price for a second permit. Exception: vehicles displaying a valid California disabled placard are not required to purchase a parking permit.
Student ID card is $6. The student ID card supports a variety of college services such as using computer and language labs, and writing checks in the college bookstore. A valid student ID card serves as the MCC library card, expediting access to the library circulating collection and academic reserve collections. Students without a valid MCC student ID card will be asked to provide proof of current semester registration along with a government-issued photo ID and proof of current address. ID cardholders also receive discounts at various North County businesses such as movie theatres. ID cards and replacements are issued at the Student Activities Office on both campuses.
Please note:
Tuition and fees must be paid at the time of registration during the new student orientation.
Students can pay tuition and fees using U.S. dollars, Master or Visa cards.
The transportation estimated cost above does not include the cost purchasing a car.
Living expenses varies based on housing option. Prepare a minimum of $1,000 cash for initial cost.
What to Pack
Appropriate clothing. (See Weather in Oceanside.)
Carry your passport, I-20, money and all official documents in your carry-on luggage.
If you have medical insurance valid in the U.S., bring proof of coverage in English. You must have insurance while attending MiraCosta.
Money. A US credit card (Visa or Mastercard) will be useful in the U.S. You will need at least $4,000 USD for the initial expenses including tuition and housing fees.
Cultural items. You may consider bringing traditional clothing or other small unbreakable items that help you share your culture with others. Many students enjoy wearing traditional clothing for special occasions such as the annual "International College Hour."
Please note US electrical current is AC110. It may be better to buy small electrical appliances in the US if yours operate on direct current.
Complete Online Registration Form
As a new student, you are required to complete the online registration form. This is the first step towards your class registration. When completing the online registration form, you can leave the Social Security Number field blank if you don't have the number. If you currently do not have an address in the U.S., you can use your address in your home country. Once your online registration form is submitted and processed by the college, you will receive a student ID number for you to log in to the online registration system. After taking the placement tests and meeting with the academic counselor, you will be ready to register for your first semester classes!
Arriving in the U.S.
Important information regarding your arrival in the U.S.
New Arrival Process for International Students
Foreign visitors arriving in the U.S.—only via air or sea—who need to prove their legal-visitor status—to employers, schools/universities or government agencies—will be able to access their U.S. Customs and Border Protection arrival/departure record information online when the agency starts its records automation on April 30, 2013. With the new CBP process, a CBP officer will stamp the travel document of each arriving non-immigrant traveler. The admission stamp will show the date of admission, class of admission, and the date that the traveler is admitted until. Travelers will also receive on arrival a flier alerting them to go to CBP.gov/I94 for their admission record information.
Retrieve your I-94 number.
Reporting to MiraCosta College
After you arrive in Oceanside, the International Office would like to meet you and welcome you to the college! You should visit the International Office as soon as possible to begin class registration. The International Office is located in room 3443 inside building 3400. See directions to MiraCosta College and the campus maps.
Please bring the following documents with you when you visit the International Office:

Passport & F-1 Visa
Form I-20 & I-94
Local Address Info
How to Print your I-94 Card
Click here to print your I-94 Card.