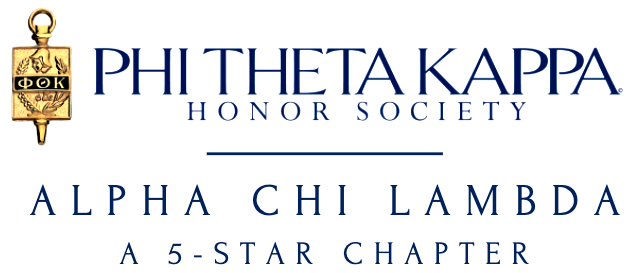 Our Mission
The mission of Phi Theta Kappa is to recognize academic achievement of college students and to provide opportunities for them to grow as scholars and leaders.
Advisors
Officers
Executive Phi Theta Kappa Board 2023-2024
Membership Information
Who can be a member?
Phi Theta Kappa (PTK) is an academic honors society; consequently, a competitive GPA is required. After completing no less than 12 units, students must have an overall GPA of 3.5 and above. Those who meet the standards are invited to join, but if a student believes he or she qualifies and did not receive a membership invitation, they should contact a PTK advisor. After completing the online application process and paying the membership fee, the student is officially a PTK member.
How to get involved?
Members can get involved by attending meetings, participating in PTK activities, and communicating with officers and advisors. Volunteer opportunities are organized, committees are formed to work on different projects, connections are made with fellow Phi Theta Kappans, and fun events are held both on and off campus. Members are encouraged to enrich their time at MiraCosta College by becoming involved in PTK.
Received an Invite?
Congratulations! Enter your passcode or email to accept your invitation.
Featured Video: Become Who You Always Wanted to Be
Upcoming Events
CARE Free Food and Resource Market
Join PTK this semester volunteering together at the MiraCosta Farmer's Markets. Please indicate PTK in the comments so we can arrange to bring a PTK t-shirt for you. Please sign up here to join us!
Phi Theta Kappa's College Project Collaboration with the Transitions Program November 9, 2-4pm
Join us for the Book Launch Event by Transitions Scholars Authors to be held in Aztlan (building 3400). Here is the link to RSVP by October 25, 2023. Although the RSVP deadline has passed, you can still RSVP, but please do so ASAP!
Chapter Meeting! 11/17/23 at 3pm in Aztlan (Student Center building OC 3400 on the Oceanside Campus)
Join us for a chapter meeting to collaborate, network, meet new friends, and learn more about PTK. Just show up! Snacks will be provided.
Beach Cleanups
Join the Sustainability Club for the last Beach Cleanup of the semester on 11/25 at the Oceanside Pier. Meet in front of the lifeguard department building. If further information is needed, please contact the Sustainability Club President, Sav Hollenbaugh at savhollenbaugh@gmail.com.
MiraCosta PTK Jack Kent Cooke Scholarship Workshop 11/27/23 from 6-7pm via Zoom
Our chapter will host a Jack Kent Cooke (JKC) Scholarship Workshop featuring a former MiraCosta student and PTK officer who was the winner of the JKC scholarship in the 2022-2023 school year. Hayat Sherif was the sole winner of this scholarship in the San Diego area! Please join us for an informative workshop on the completion of this scholarship application. Join Zoom Meeting https://miracosta-edu.zoom.us/j/97032234430 Meeting ID: 970 3223 4430.
News and Other Updates
We Need You!
Do you enjoy creating flyers on Canva? Are you creative and/or artistic? Are you looking to add to your resume with team building and leadership skills? If so, we need you! We have a need for a PTK member to help us with flyer creation to post on social media and via this newsletter. Please email Delores Loedel if you are interested in this position. Thanks!
The Phi Theta Kappa Fall 2023 Scholarship application window is now open and closes December 1at 5 p.m. CST. Apply here.
Interested in getting more involved with PTK?
Join our Honors in Action (HIA) committee or our College Project Committee. These are great projects to add to your college apps/scholarship apps and/or resume. For further information, please email PTK@miracosta.edu.
PTK Honors in Action Workshop
This is a comprehensive guide to the services provided by MiraCosta College. This is specifically geared towards First Generation students, but anyone can benefit from this guide.
Congratulations to our former officer, Hayat Sherif, who was named a Jack Kent Cooke Scholarship Finalist!
Additional Upcoming Collaborative Events
For more information and to RSVP for all events: Honors@miracosta.edu
MiraCosta's Thrift Shop Event
CARE has requested PTK Volunteers for the upcoming Thrift Shop Clothing Drive. They need volunteers the day before, Monday, November 13 and the day of the event, Tuesday, November 15. The shifts are 2-hour increments. Please sign up to volunteer! PTK members can get Service Learning hours for volunteering which goes toward the Service Learning certificate. In collaboration with our amazing CARE team, we are very excited to announce our second annual Thrift Shop Clothing Drive for students in observance of Hunger/Homelessness Awareness Week!! This event was a HUGE success last year thanks to all of you! And we need you again!


Bring new or gentle-used clothing to Student Health Services (Barnard campus rm. 3326, map attached)
On Wednesdays and Thursdays only
Starting October 4th and 5th through November 8th and 9th

Citrus College PTK Jack Kent Cooke Scholarship Workshop
The Beta Nu Eta chapter at Citrus College is also hosting a JKC workshop and it will be held on 11/3 at 11 am. Please see the flyer and attend if you are able to collaborate with other PTK members in our region.
Links