Every year, we start and wrap up the academic year with our special annual events: Lavender Welcome and Lavender Celebration.
In the fall, we host the annual Lavender Welcome to mark the new semester. We welcome new students and staff, and give them the opportunity to mingle with the team and current students and staff. We share what is planned for the semester and of course, we make time for a fun activity!
In May, LGBTQIA+ Equity ends the academic year by hosting an annual Lavender Celebration, a celebratory event that honors the achievements of our student graduates and those who have improved the campus climate for the LGBTQIA+ community, gives awards to students and staff for their extraordinary services, and recaps the year.
Scroll down to learn more about this year's events and how to RSVP.
Lavender Welcome Fair - Friday, Sept. 8, 2023 from 11am - 3pm PST
In-Person (Oceanside Campus) Clocktower, Central Lawn, Pavilion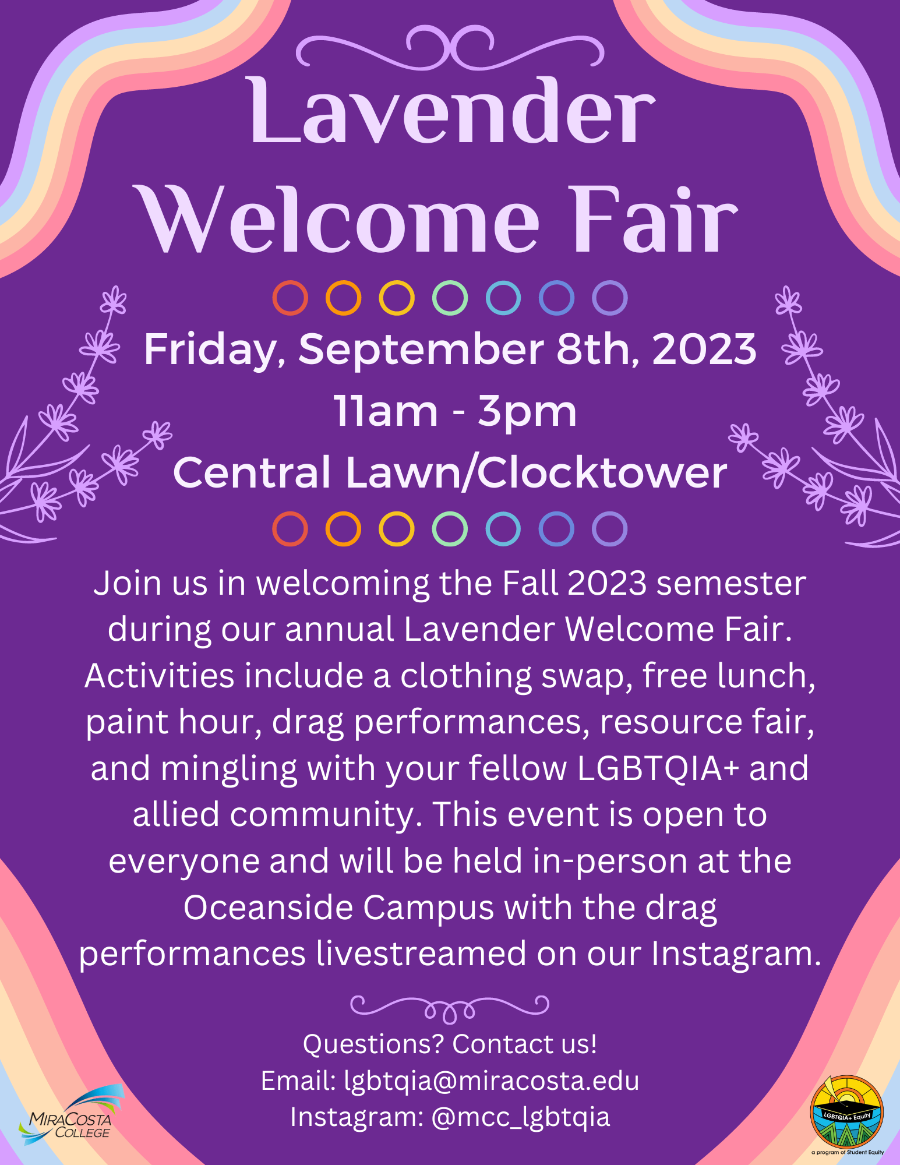 Welcome the Fall 2022 semester with us during our annual Lavender Welcome Fair. Activities include clothing swap, free lunch, paint hour, drag performances, resource fair, and mingling with your fellow LGBTQIA+ and allied community. This event is open to everyone and will be held in-person at the Oceanside Campus at the Central Lawn/Clocktower with the drag performances livestreamed on our Instagram: @mcc_lgbtqia
Lavender Celebration - TBD
Join our community during our annual Lavender Celebration in honoring our LGBTQIA+ and allied student celebrants as we end the academic year featuring entertainment, refreshments, student art, and more.
The celebration will be free to all and food will be provided to those who attend in-person. We welcome all students, staff, faculty, and community members who identity as LGBTQIA+ and supportive allies to celebrate this joyous occasion.
Celebrating Students

If you are a currently enrolled LGBTQIA+ or ally student who has completed their program (credit or noncredit), we'd love to honor you and your achievements at Lavender Celebration.
Honoree registration deadline - TBA for 2023 - 2024
Award Nominations
During Lavender Celebration two awards will be presented to a MiraCosta staff or faculty member and to a student who provides extraordinary service and commitment to the LGBTQIA+ community. Help us make sure we select the best person by nominating someone. Any MiraCosta College member (staff, faculty, or student) may nominate someone for this award.
Award recipients will be announced at the Lavender Celebration. There is no limit on the number of individuals you may nominate. Please submit a separate from for each nominee.
Award nomination deadline - TBA
FAQ
I've heard of "Lavender Graduation" but not "Lavender Celebration," what's the difference?

We have chosen to use the title "Lavender Celebration" to be more inclusive of the variety of accomplishments that our honorees want to celebrate. Typically, Lavender Graduations honor students who have completed degree requirements and will go one to participate in the larger commencement events. Our celebration is open to both credit and noncredit students who would like their hard work honored.

Who is eligible to participate?

If you are a lesbian, gay, bisexual, transgender, queer/questioning or asexual student, or a straight or cisgender ally who has completed their program (credit or noncredit) at MiraCosta, you may register to be honored at Lavender Celebration. You must be current student in order to participate in Lavender Celebration.

I am not able to attend, but I'd like to be honored, is that possible?

Absolutely! Fill out the honoree registration and indicate that you are not able to attend. Once your form has been received you will get an email with information on how to get your certificate. Although you are not able to attend, you will still be listed in the program.

What is the history behind Lavender Graduations?

The Lavender Graduation Ceremony was created by Dr. Ronni Sanlo, a Jewish Lesbian, who was denied the opportunity to attend the graduations of her biological children because of her sexual orientation. It was through this experience that she came to understand the pain felt by her students. Encouraged by the Dean of Students at the University of Michigan, Dr. Sanlo designed the first Lavender Graduation Ceremony in 1995. The first Lavender Graduation began at the University of Michigan in 1995, with three graduates. By 2001, there were over 45 Lavender Graduation Ceremonies at Colleges and Universities nationwide. Graduating students, including undergraduates and graduates, are invited to take part in the celebration, which occurs each year the week prior to university-wide commencement events.

What is the significance of "Lavender?"

Lavender is important to LGBTQ history. It is a combination of the pink triangle that gay men were forced to wear in concentration camps and the black triangle designating lesbians as political prisoners in Nazi Germany. The LGBTQ civil rights movement took these symbols of hatred and combined them to make symbols and color of pride and community.

Why should I participate as a graduate?

Lavender Celebration recognizes your accomplishments as an LGBTQIA+ student or ally during your student career at MiraCosta College. It is an opportunity to celebrate with community and serves as your formal "goodbye" to the MiraCosta LGBTQIA+ community. You will be able to publicly thank supportive family, friends, teachers, mentors, and peers, and will serve as an inspiration to fellow students.

I identify as a straight ally? Can I participate?

Yes! Straight and/or cisgender allies are welcome to participate in Lavender Celebration. You do not have to identify as LGBTQIA+ in order to participate. Allies are those who take a stand when injustices occur against LGBTQIA+ individuals and communities, but who are careful to lift and honor the voices and experiences of those who are themselves LGBTQIA+. Being an ally is a lifelong journey.

I would like to help, how can I volunteer?

We'd love to have your help during this joyous occasion. If you are interested in learning more about volunteer opportunities please contact Fran Bautista at

fbautista@miracosta.edu

.
For more information on these services and programs contact:
Fran Bautista
they / she
LGBTQIA+ Equity Student Services Specialist [Interim]
760.757.2121 x6236
fbautista@miracosta.edu
LGBTQIA+ Equity is a service of the Department of Student Equity. For general inquiries about all Student Equity programs and services, please contact us at studentequity@miracosta.edu or call our main office at 760.757.2121 x6900.