Academic Counseling
LGBTQIA+ Academic Counselors are available to meet with LGBTQIA+ students. Students can meet with Lucio Lira (he/they/Él) to discuss their academic and professional goals, create their EdPlan, discuss the transferring process, complete academic forms, and more. Appointments can be made through the Academic Counseling website or by emailing Lucio, self-scheduling, or connecting with the LGBTQIA+ Equity Student Services Specialist, fran bautista, via email or in-person at the T30C office at the Oceanside campus Tuesday, Thursday, and Friday from 8am - 2pm.
Name Change Process
To ensure that an individual's name reflects their identity, MiraCosta College makes it easy for students to change their preferred name. There are two ways for students to change their names:
The "preferred name" field is the default field automatically used on class rosters and student ID cards, on Canvas, and to borrow items from the college library.
Note: The Office of Admissions and Records does not currently require any documentation to add or update a preferred name. If students wish to change their primary (Legal) name, documentation is required. For more information about legally changing your name and gender in the State of California, check out this informative page from the California Courts.
Dead Name
A dead name is defined as the birth, legal, or "given" name of a person who has changed their name. The term is primarily used in the LGBTQIA+ community to affirm one's gender expression and identity, allowing folx to go by their chosen name instead of their given name. A chosen name can help folx, and the people in their lives begin to see them as the gender they know themselves to be.
Completing a legal name change can help people who are transgender avoid every day "deadnaming" when presenting their IDs, such as at hospitals or schools. However, attaining a legal name change can be time-consuming, expensive, and subject LGBTQIA+ people to further discrimination.
What is deadnaming?
Deadnaming occurs when someone refers, intentionally or not, to someone by a name assigned to them at birth. A person may decide to no longer use their birth or legal name, choosing a name that better aligns with their identity - also known as a chosen name. When someone uses a person's dead name after being asked not to, we call it "deadnaming" because the person they once were is "dead," but this person is alive and here.
Update Your Pronouns
In Canvas students are able to select their pronouns. Find the instructions to update your user profile and add your pronouns here. Students have the option to choose between the following pronouns on Canvas:
They/Them/Their
She/Her/Hers
He/Him/His
(F)ae/(F)aer/(F)aer
Xe/Xim
Ze (or Zie) / Zir (or Hir)
Per/per/pers
Ve/ver/vis
E/Ey/ Em/Eir
She and They
He and They
He/Him/His/Él
She/Her/Hers/Ella
They/Their/Theirs/Elles
Use my name
Any / All
If none of these options work, you can add your pronouns by completing the Pronouns Addition Form.
DO NOT USE THIS FORM IF YOUR PRONOUNS ARE LISTED ABOVE.
Gender Sexuality Alliance Student Club

The Gender Sexuality Alliance (GSA) is one of the oldest recognized student clubs at MiraCosta College. Formerly known as the Gay Straight Alliance, the club's mission includes strengthening the LGBTQIA+ community through social activities and community service, promoting acceptance and tolerance by embracing diversity, and advocating for human and civil rights.
The GSA club meets regularly during the Fall and Spring semesters. To learn more, check out their Engage Page.
Endowed Student Scholarships
There are multiple student scholarships available for LGBTQIA+ students and active allies. More information about these scholarships is available on theMiraCosta College Scholarship website; tax-deductible donations to all scholarships may be made at the MiraCosta College Foundation website (please put name of scholarship in donation notes). The current scholarships available are:
GSA Club Scholarship

-

In the spring of 2014 the Gender Sexuality Alliance Club (formerly known as the Gay Straight Alliance Club) successfully endowed a scholarship fund by raising more than $25,000.00. The annual GSA Scholarship awards $1,000.00 to a current MiraCosta College student who identifies as a member of - or an active ally to - the LGBTQIA+ community.
Joe Maak & Pride Resource Partners LLC Scholarship - In the fall of 2016, the Joe Maak & Pride Resource Partners LLC scholarship endowment was created and a $1,000.00 scholarship will be awarded annually to an LGBTQIA+ student or active ally.
Trans* Pride Scholarship - In the spring of 2017 MiraCosta College made history by fully-endowing the Trans* Pride Scholarship. This scholarship - focusing on transgender and gender non-conforming students in higher education - is the first endowed scholarship of its kind in the world.
Queer and Trans People of Color (QTPOC) Scholarship - MiraCosta again made history at the end of June 2019 when, during the same week as the 50th anniversary of the Stonewall Riots, the Queer and Trans People of Color (QTPOC) Scholarship was fully endowed. Highlighting the problematic climate for queer and transgender people of color both inside higher education and out, this scholarship seeks to raise visibility for - and conversations about - the unique and specific needs of QTPOC individuals.
2022-2023 Scholarship Deadline: TBD
Rainbow Stoles (for Commencement)
Rainbow commencement stoles for graduating LGBTQIA+ students and allies are available for purchase at the Oceanside Campus Bookstore. Participants in Lavender Celebration are given a FREE rainbow stole! Learn more about Lavender Celebration here.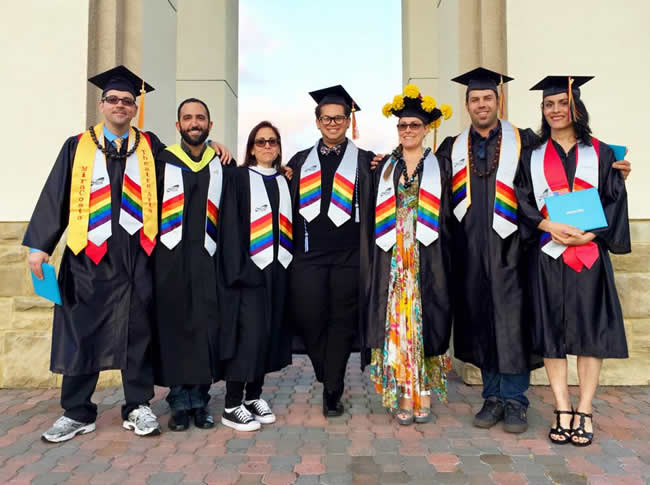 Mental Health Resources
MiraCosta College provides access to a number of mental health resources for both students and employees. Student resources include free and confidential individual, couples, and family counseling with the Mental Health Counseling team in Health Services. More info may be found on theHealth Services website. Employee resources can be found on theHuman Resources website.
Prism Collective
Focusing on a variety of topics related to sexual orientation, gender identity, and gender expression; the Prism Collective is an initiative of and co-facilitated by the Student Equity Department and Health Services for LGBTQIA+ students. The Prism Collective is an affirming space for all LGBTQPIA+ students to share experiences, express their identities, and build community. To learn more about this student group, please visit Health Services. For more information and the Zoom link, email Van Ethan Levy at vlevy@miracosta.edu; specify in email that you are requesting a link for the Prism Collective Group.