Every instructional faculty member can effectively educate college men of color and learn strategies and approaches that can enhance success outcomes for these men.
The Teaching Men of Color in the Community College certificate program was available and free for all who wish to participate in this noncredit, non-CEU professional development training program. This certificate program gave community college faculty and staff strategies and approaches that could be used to foster enhanced learning among college men of color. Learners registered and began their course when it was most convenient for them.
Program Developed and taught by J. Luke Wood, PhD, and Frank Harris III, EdD, Associate Professors of Community College Leadership, Co-Director of the Minority Male Community College Collaborative, and Co-Authors with Khalid White of Teaching Men of Color in the Community College: A Guidebook.
Program Features
Developed by faculty and based on over a decade of research in Higher Education
Fully online program delivery
Interactive dialogue with other learners
Real-Time virtual sessions with Faculty
Tangible solutions for real challenges
15 hours of Professional Development
Access to the training site for 30 days
Program Modules
Factors Necessitating Enhanced Teaching and Learning Strategies
Theoretical and Epistemological Foundations of Teaching Men of Color
Building Relationships with College Men of Color-Live Video Session A
Teaching and Learning Strategies for Instructional Faculty
Live Video Session B/Wrap-up Session with Faculty
How to Get the Guidebook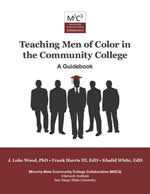 Please contact Jd Banks to have the guidebook sent to you via snail mail (please provide your mailing address).
Contact Information
For questions regarding Student Equity, please call our main line 760.757.2121 x6900.
Kristina Londy
She/her/hers
Director, Student Success & Equity
Oceanside Campus
760.757.2121 x6460
klondy@miracosta.edu
Jd Banks
She/her/hers
Administrative Support Assistant III, Student Equity
Oceanside Campus
760.757.2121 x6900
jbanks@miracosta.edu
The Teaching Men of Color in the Community Colleges Certificate Program was a service of the Department of Student Equity. For general inquiries about all Student Equity programs and services, please contact us at studentequity@miracosta.edu or call our main office at 760.757.2121 x6900.